Sky-High Doses: Taking Large Amounts of Vitamin D Is on the Rise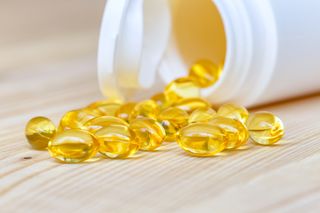 (Image credit: Shutterstock)
The number of people taking sky-high doses of vitamin D has increased dramatically in recent years, a new study finds.
Between 1999 and 2014, the percentage of U.S. adults taking 1,000 International Units (IU) or more of vitamin D increased by more than 60 times, from 0.3 percent of adults in 1999-2000 to 18.2 percent in 2013-2014, the researchers found. For adults up to age 70, the recommended dietary allowance is 600 IU a day; for adults over 70, it is 800 IU daily.
Research into the health benefits of vitamin D has increased since 2000. But although studies have found that the vitamin can help bone health, there's been limited evidence that vitamin D has benefits beyond the skeleton, according to the study, which was published as a research letter today (June 20) in the journal JAMA.
The Institute of Medicine (now called the National Academy of Medicine) reported in 2011 that taking more than what doctors call the "tolerable upper limit" — in other words, the highest amount of a vitamin a person can take that's unlikely to be harmful — may indeed have negative effects on health. [5 Key Nutrients Women Need as They Age]
The tolerable upper limit is considerably higher than the recommended amount a person should take each day. For vitamin D, the tolerable upper limit for people of all ages is 4,000 IU a day.
The main source of vitamin D is sunlight: When the sun shines on a person's skin, it triggers a chemical reaction that produces the vitamin, according to the National Library of Medicine. Very few foods naturally contain vitamin D, but it can be found in foods that come from animals, including meat and dairy. Mushrooms are the only produce that naturally contains vitamin D.
Because it's difficult to get enough vitamin D from food alone, many people take supplements. In the study, the researchers noted that taking at least 1,000 IU of vitamin D a day likely indicated that a person was "intentionally seeking" more vitamin D.
In the study, the researchers looked at data on nearly 40,000 people gathered during the National Health and Nutrition Examination Survey, which is conducted in two-year cycles. In every survey done from 1999 to 2006, less than 0.1 percent of adults reported taking 4,000 IU or more of vitamin D supplements a day. But in the 2013-2014 survey, 3.2 percent of adults reported taking that much vitamin D, an increase of more than 30 times.
In 2013-2014, high-dose vitamin D intake was more common in women than men, the study found. In addition, high intake was also more common in non-Hispanic people than in people of other races, and more common in older individuals than younger.
The researchers noted that a limitation of the study was that participants self-reported the amounts of vitamin D they took.
Dangers associated with taking too much vitamin D include an increased risk of fractures and falls. And people taking vitamin D with calcium supplements are at an increased risk of kidney stones, according to the study.
Originally published on Live Science.
Stay up to date on the latest science news by signing up for our Essentials newsletter.
Sara is a staff writer for Live Science, covering health. She grew up outside of Philadelphia and studied biology at Hamilton College in upstate New York. When she's not writing, she can be found at the library, checking out a big stack of books.