XPod Would Sense Your Emotions Then Pick Music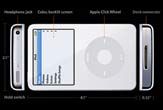 Research on the XPod, a mobile music player that senses activity and emotion, will be presented at Proceedings of the International Conference on Mobile Technology, Applications and Systems later this year.
According to their concluding remarks, the XPod does a reasonable job of automating music choice for a user's activity.
Science fiction writers have been wrestling with the problem of how computers made of cold steel and silicon can understand human beings and their emotions. For example, take this classic exchange between astronaut Bowman and HAL9000 in Arthur C. Clarke's 2001:A Space Odyssey:
In this example, perhaps if HAL had suggested a relaxing track from Bowman's iTunes library, rather than a stress pill, the whole movie might have turned out differently.
You might also be interested in testingthe human emotional responses of politicians or GRACE- the polite robot.Readmore here and here;via pastaand vinegar.
(This Science Fiction in the News story used with permission from Technovelgy.com - where science meets fiction.)
Stay up to date on the latest science news by signing up for our Essentials newsletter.
Bill Christensen catalogues the inventions, technology and ideas of science fiction writers at his website, Technovelgy. He is a contributor to Live Science.