More Kids Consuming Pot by Accident in Colorado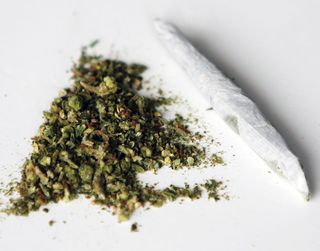 (Image credit: mikeledray/Shutterstock.com)
The number of young kids in Colorado who accidentally consume marijuana has increased since buying the drug for recreational use became legal there in 2014, according to a new study.
During 2009, before the recreational use of marijuana was legalized in Colorado, only nine calls were made to a regional poison center regarding kids accidentally ingesting or inhaling marijuana, researchers found.
In comparison, 47 such calls were made to the center during 2015, the researchers found. This means that the number of such calls increased by more than five times since 2009, the researchers found. [7 Ways Marijuana May Affect the Brain]
"We anticipated that the rate would likely go up" after the recreational use of marijuana was legalized in Colorado, said study co-author Dr. Genie Roosevelt, a pediatrician at Denver Health Medical Center. "What we didn't anticipate is how much it was going to go up."
More than half of the states in the U.S. now allow people to use marijuana for medical reasons, and four states also allow the recreational use of marijuana, the researchers said.
In the study, the researchers looked at how many children ages 10 and younger had been admitted to a children's hospital in Colorado because of exposure to marijuana between 2009 and 2015. The researchers also looked at how many calls related to such cases had been made to a regional poison center in Colorado in that period.
The researchers found that a total of 81 children had been evaluated at the hospital for symptoms of marijuana exposure, and 163 calls regarding marijuana exposure in kids had been made to the poison center during the study period. The kids involved were about 2 years old, on average.
The researchers found that the rate of visits related to marijuana exposure at the children's hospital increased from 1.2 per 100,000 children during the two years prior to marijuana legalization, to 2.3 per 100,000 children during the two years after legalization.
The kids in the study typically ingested marijuana that belonged to their parents, grandparents, other family members, neighbors or babysitters, according to the findings, published today (July 25) in the journal JAMA Pediatrics. [11 Odd Facts About Marijuana]
Several health effects related to the accidental exposure of kids to marijuana were reported to the poison center. These include vomiting, breathing problems and even seizures, the researchers said.
Most of the cases involved edible marijuana products, the researchers said. Such products often look "very similar to regular food products, and they can be very enticing to kids, with bright colors and bright packaging," Roosevelt said.
Moreover, many of the cases occurred because the marijuana products weren't stored in child-resistant containers or because the children were poorly supervised, the researchers said.
Previous research has also suggested similar results from earlier marijuana law changes. Colorado has seen a spike in the number of kids visiting emergency rooms after accidentally ingesting marijuana products since 2009, when federal officials relaxed their policy on medical marijuana.
Because recreational marijuana use was only recently legalized in Colorado, it is not yet clear what effects it may have on children's long-term health, Roosevelt told Live Science. However, researchers are worried about the potential effects on teens' health of smoking and vaporizing marijuana, because marijuana smoke has many of the same carcinogens that are present in cigarettes, Roosevelt said.
Originally published on Live Science.
Stay up to date on the latest science news by signing up for our Essentials newsletter.