Flying Is Safer Than Ever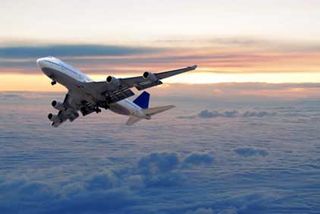 (Image credit: stockxpert)
With the presumed crash of Air France Flight 447 over the Atlantic Ocean on Sunday and other recent airplane incidents, nerves might be set off at the prospect and risks of air travel.
But flying on a large commercial aircraft still remains one of the safest forms of transportation, and statistics suggest it has gotten even safer in recent years. There were 0.2 fatal accidents per 1 million departures in the United States in 2008, compared to 1.4 per 1 million departures in 1989, for example, and a review of the statistics in intervening years shows an improving trend overall.
Over the last decade, there has been "a remarkable decrease in accidents globally," said Bill Voss of the Flight Safety Foundation, a nonprofit organization headquartered in Alexandria, Va.
And despite a few recent notable crashes, the record of airline safety, at least in the United States, remains solid, going two years without a fatality until the crash of a twin-engine turboprop plane in Buffalo, NY this year.
Only 28 accidents involving large commercial carriers were reported each year in both 2007 and 2008, according to the National Transportation Safety Bureau (NTSB). Airlines carried 753 million passengers on more 10.8 million flights without a passenger fatality for those two years. U.S.-run commuter airlines also reported no fatalities in these years, though fatalities have occurred in 2009.
However, on-demand flight operations, which include air medical, air taxi and air tour flights, logged more than 3.6 million flight hours in 2008 and had 56 accidents, killing 66 people — the highest number of fatalities since 2000.
NTSB records of airline accidents in the United States through the end of April this year show that air carriers have had 25 accidents in 2009, three of which involved fatalities (a total of 60 deaths).
The biggest of these accidents was the crash of a Bombardier Dash 8-Q400 twin-engine turboprop airplane in February in Buffalo, killing 50, including one ground fatality.
The heroic emergency landing of US Airways flight 1549 on the Hudson River in January resulted in zero fatalities, though it raised anxieties for some flyers and raised awareness of "bird strikes" — which happen when birds are sucked into a jet engine.
Downward trend
The number of accidents of course varies year to year, and one or two large crashes can make any given year seem worse than the norm. Overall though, "I think we have seen a general downward trend in accidents," said NTSB spokesman Peter Knudson.
Accidents have also become more survivable, Voss said, with the Hudson landing a case in point. If you board a plane in the United States, he said, you have about a 1-in-2 million chance of being in an aircraft accident and a 60 percent change of surviving such an accident.
The reasons for accident reduction are many and varied, Knudson said, including better training of crews and better air traffic control. Importantly, "there are whole classes of incidents that have virtually been eliminated," Knudson told LiveScience, including mid-air collisions thanks to the Traffic Collision Avoidance System.
The cause of the Air France flight disappearance last night is not yet known, though early suggestions blamed poor weather conditions. Thunderstorms and other natural hazards can pose a threat to airplanes.
"This is a very unusual event," Voss said, for many reasons: The plane was en route, and most accidents occur during takeoff or landing; the plane was fairly new and had plenty of fuel; it also had backup systems and redundancies built into it.
"Right now it's just a puzzle," Voss said.
The real danger: Driving
Though plane crashes are a scary sight, driving remains much more hazardous, statistically speaking. In 2007, 44 people died in air crashes in the United States, while auto crashes killed 44,000, according to the NTSB.
The spate of crashes in recent months is no reason to be concerned about flying, Voss said, as "it's very common for these things to cluster."
"Even with recent events, [flying] is still spectacularly safe," Voss told LiveScience, adding, "we never quit trying to make it safer."
The leading causes of death in the United States don't have anything to do with what type of transportation you take, but with your personal health. The No. 1 killer is heart disease, followed closely by cancer.
The lifetime odds of dying of heart disease are 1-in-5 (based on 2001 statistics), while those of dying in an auto accident are 1-in-100. The odds of dying in an air travel accident are 1-in-20,000. Such statistics speak to the whole population, of course. Your odds may vary dramatically if, for example, you never get in a car or never fly.
Stay up to date on the latest science news by signing up for our Essentials newsletter.
Andrea Thompson is an associate editor at Scientific American, where she covers sustainability, energy and the environment. Prior to that, she was a senior writer covering climate science at Climate Central and a reporter and editor at Live Science, where she primarily covered Earth science and the environment. She holds a graduate degree in science health and environmental reporting from New York University, as well as a bachelor of science and and masters of science in atmospheric chemistry from the Georgia Institute of Technology.