Marriage Contract Signed by Napoleon Could Sell for $20,000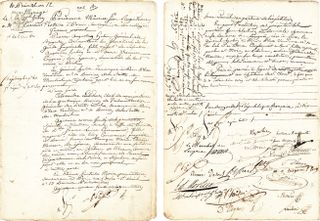 (Image credit: Lion Heart Autographs)
Napoleon Bonaparte was more than a master tactician, emperor and leader of the French military — he was also a great romantic. And now, a marriage contract signed by him and his first wife, Josephine, will be sold online — just in time for Valentine's Day, according to Lion Heart Autographs, a New York-based dealer handling the sale.
The 19th-century document celebrates the marriage of Gen. August Hulin and Marie Jeanne-Louise Tiersonnier on May 30, 1804, in Paris. It is one of the first documents Napoleon and Josephine signed as witnesses after becoming emperor and empress of France. Moreover, it is one of only a handful of such documents bearing Napoleon's signature known to be in private owners' possession.
The marriage contract will be sold at the Palm Beach Jewelry, Art and Antique Show from Feb. 10 to 16, along with several other documents bearing signatures of historical dignitaries. The artifact is expected to sell for at least $20,000, according to Lion Heart Autographs. [10 Epic Battles That Changed History]
Napoleon's own marriage contract with Josephine sold for 437,500 euros in 2014 (about $563,700 based on the conversion rate at the time), The Guardian reported. It was purchased by the privately owned Museum of Letters and Manuscripts for more than five times the original estimate and can still be viewed at the museum today.
Napoleon and Josephine's love affair is well documented in history. A well-connected socialite, Josephine engaged in several love affairs with political and military leaders before she caught Napoleon's eye. They were married on March 9, 1796. However, Napoleon left on his Italian campaign just days later. He sent Josephine many love letters during his absence and penned more throughout their marriage.
The couple caused a lot of controversy because Josephine was a widow with children and was six years older than Napoleon. Rumors circulated of her infidelities, and Josephine's inability to give birth to a son strained the marriage, historian Andrew Roberts wrote in "Napoleon: A Life" (Viking, 2014).
In 1810, Napoleon had the marriage annulled and went on to marry Marie Louise, Duchess of Parma. Yet on his deathbed, Napoleon's last words were reported to be "France, armee, tete d'armee, Josephine." (France, army, head of the army, Josephine).
"I don't think there is a person anywhere who isn't fascinated by Napoleon and Josephine's love story — a truly romantic couple joined together during a remarkable period in history," David Lowenherz, founder and owner of Lion Heart Autographs, said in a statement.
In addition to the famous couple, several other notable figures — including six of Napoleon's original 18 marshals, two queens and two kings — signed the 19th-century marriage contract. Lowenherz said the document "offers a rare glimpse into the splendid affairs of the royal household."
Other items up featured at the Lion Heart Autographs sale include a letter by Albert Einstein on how intellectuals and the working class should collaborate; doodles by former U.S. President Dwight D. Eisenhower on White House stationery; a decorative proclamation signed by former U.S. President Harry Truman declaring the end of World War II; and an unpublished handwritten letter by Charles Darwin sending his photograph to a former shipmate aboard the HMS Beagle.
More information about the sale can be found on the Lion Heart Autographs website.
Follow Knvul Sheikh on Twitter @KnvulS. Follow Live Science @livescience, Facebook & Google+. Original article on Live Science.
Stay up to date on the latest science news by signing up for our Essentials newsletter.