Science Returns to the White House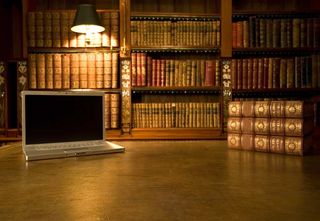 (Image credit: Stock.Xchng)
In announcing four top science advisers Saturday, President-elect Barack Obama set lofty goals for an open and honest scientific process and dialogue in his new administration.
"The truth is that promoting science isn't just about providing resources — it's about protecting free and open inquiry," Obama said in his weekly radio address. "It's about ensuring that facts and evidence are never twisted or obscured by politics or ideology. It's about listening to what our scientists have to say, even when it's inconvenient — especially when it's inconvenient. Because the highest purpose of science is the search for knowledge, truth and a greater understanding of the world around us. That will be my goal as President of the United States — and I could not have a better team to guide me in this work."
The statements are in direct contrast to how many scientists viewed George W. Bush's treatment of science.
Many top researchers interviewed by LiveScience early this year said Bush's White House operated based on morality-based politics that they said ignored scientific evidence, distorted facts and led to outright censorship of reports and scientists. Echoing the sentiments of 21 researchers from different fields interviewed, Alan W. Harris, senior research scientist at the Space Science Institute at La Canada, Calif., accused the White House of "systematic suppression of scientific evidence that does not support administration plans."
New picks
As expected, Obama announced John Holdren, a physicist and environmental policy professor at Harvard University, as assistant to the president for science and technology, director of the White House Office of Science and Technology Policy.
Holdren's appointment was met with broad approval in the science community.
"John Holdren's expertise spans so many issues of great concern at this point in history — climate change, energy and energy technology, nuclear proliferation," said Alan I. Leshner, executive publisher of the journal Science and leader of the American Associated for the Advancement of Science (AAAS). "He is widely respected in the United States and around the world as a science leader." (Holdren is former president of the AAAS.)
Holdren advised Al Gore on the documentary "An Inconvenient Truth." Bloomberg News wrote of him: "Holdren uses a U.S. map in global warming presentations to show areas of Cape Cod and Florida that would vanish if temperatures continue rising. 'Global warming' is too mild a term to describe climate changes happening now, he said."
Holdren is also expected to push for federal funding of embryonic stem cell research.
He will also co-chair the President's Council of Advisors on Science and Technology (PCAST). Nobel Prize winner Harold Varmus and Eric Lander were announced as the other co-chairs of PCAST, which Obama said he hopes will be "a vigorous external advisory council that will shape my thinking on the scientific aspects of my policy priorities."
Change in climate
Jane Lubchenco, a marine biologist at Oregon State University, will lead the National Oceanic and Atmospheric Administration (NOAA), which sets the agenda for much of the nation's climate and marine research as well as overseeing the National Weather Service. "The fact that Obama picked Lubchenco to oversee [the agency] shows he's serious about addressing [global warming]," wrote the editors of The Oregonian. "No one is better qualified than Lubchenco, either, to lead a national effort to restore ocean health."
Obama did not mince words on the importance of basic science research and education.
"I am confident that if we recommit ourselves to discovery ... if we support science education to create the next generation of scientists and engineers right here in America; if we have the vision to believe and invest in things unseen, then we can lead the world into a new future of peace and prosperity," Obama said.
The newly appointed scientists will join an incoming energy team who will be charged with combating climate change while creating green collar jobs as part of a broader plan to reinvigorate the economy.
That team includes Steven Chu, Obama's pick for energy secretary. The Nobel Prize-winning physicist Chu, who led the Berkeley National Laboratory, along with Holdren and Lubchenco have all advocated mandatory limits on greenhouse gas emissions, according to The New York Times. The Bush administration opposed such limits.
Widespread cheer
It's clear the incoming administration will have a significantly different scientific mindset, and scientists cheered the appointments. Bruce Alberts, a biochemist and molecular biologist and editor in chief of Science Magazine, called Holdren and Chu "a great pair."
"They will tell the president and the American people the truth about the scientific findings on our most important challenges," said Jonathan Lash, president of the Washington-based environmental advocacy group World Resources Institute. "Each of them has shown a deep understanding of the risks created by human pressure on our environment, and each has experience and skill in helping policy makers understand and base their decisions on science."
And, to many, the appointments simply represent a breath of fresh air and the promise of more respect for science.
"All these impressive credentials are a beginning, not an end," said Jonathan D. Moreno, a professor of ethics and the history and sociology of science at the University of Pennsylvania and editor-in-chief of Science Progress, of the appointments. "But at the very least they say to the American people that respect for evidence will once again have a central role in government science policy.
Media around the world took notice of the shift, too. The Independent wrote: "Barack Obama yesterday promised to end George Bush's 'twisting' of science to suit 'politics or ideology' in an extraordinarily outspoken address to the nation, and announced that he was putting top climate scientists in key positions in his administration."
Robert Roy Britt is the Editorial Director of Imaginova. In this column, The Water Cooler, he takes a daily look at what people are talking about in the world of science and beyond.
Stay up to date on the latest science news by signing up for our Essentials newsletter.
Robert is an independent health and science journalist and writer based in Phoenix, Arizona. He is a former editor-in-chief of Live Science with over 20 years of experience as a reporter and editor. He has worked on websites such as Space.com and Tom's Guide, and is a contributor on Medium, covering how we age and how to optimize the mind and body through time. He has a journalism degree from Humboldt State University in California.