Green Collar Jobs to Fuel Future Economy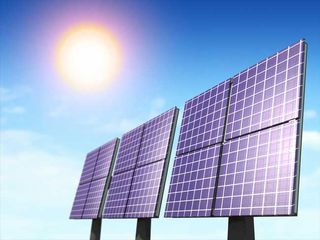 Editor's Note: Each Wednesday LiveScience examines the viability of emerging energy technologies — the power of the future.
With the economic downturn, many job markets seem in peril. However, investment in energy efficiency and renewable-energy strategies could create 2 million jobs in two years, economists claim.
In a recent report, researchers from the Political Economy Research Institute at the University of Massachusetts propose a $100 billion stimulus package that they say would create four times more jobs than would a similar investment in the oil industry.
"Our proposal is a Green Recovery program," said lead author Robert Pollin. "It is designed to precisely counteract the forces pushing the economy into a recession."
Besides reducing carbon emissions, the investment — which would combine tax credits and loan guarantees for envirotech companies — would reduce the country's dependence on foreign oil.
Moreover, it would create so-called "green collar" jobs that would benefit both traditional blue and white collar workers.
"Green investments will create jobs across the spectrum — from truck drivers, roofers, welders, secretaries, CEOs and research scientists," Pollin told LiveScience.
Wearing green
As many as one out of four workers in the United States will be working in the renewable energy and energy efficiency industries by 2030, according to a separate recent report from the American Solar Energy Society.
Who makes up the green collar work force?
"There's no real hard and fast definition," said Olivia Anderson of Acre Resources Ltd., an environmental job recruiter in the United Kingdom. "But green collar is any role implementing sustainability in business."
This can include retrofitting buildings, designing new solar cells, organizing recycling programs, carbon trading, or being part of a company's corporate responsibility team.
Perhaps this breadth explains why Anderson's company continues to place workers.
"We haven't seen a slowdown in our business," Anderson said. "There's a little bit of caution but people are still hiring."
She thinks part of this stability stems from the fact that governments and companies have both made public pledges to reduce their carbon footprint.
"They have to stick to it," she said.
The color of money
Worldwide, $148 billion was spent on clean energy technologies and projects in 2007, according to U.K.-based New Energy Finance, which provides investor information in alternative energy. This was an increase of more than 60 percent in investments from the year before.
Some foresee continued growth in the future, but it will likely depend on what government policies are enacted.
The Green Jobs Act of 2007 provides $125 million per year to fund green job training programs, but Congress has yet to appropriate the funds.
In the race for the White House, Sen. Barack Obama has proposed spending $150 billion over 10 years to help create 5 million new jobs in clean energy. Sen. John McCain has a plan to fund low-carbon technologies with proceeds from a cap and trade system.
"These programs are moving in the right direction," Pollin said. But "we need more dramatic action. This will benefit the environment and have a much greater positive impact on job availability."
Video: Change in the Wind - Power From Thin Air?
Stay up to date on the latest science news by signing up for our Essentials newsletter.
Michael Schirber began writing for LiveScience in 2004 when both he and the site were just getting started. He's covered a wide range of topics for LiveScience from the origin of life to the physics of Nascar driving, and he authored a long series of articles about environmental technology. Over the years, he has also written for Science, Physics World, andNew Scientist. More details on his website.