Mighty Mammoths Fell Prey to Rapidly Warming Earth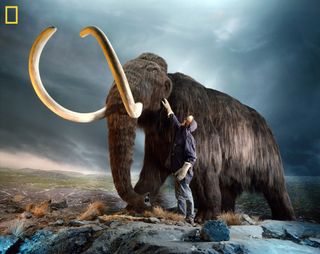 (Image credit: Photo by Jonathan S. Blair/National Geographic)
The mighty megafauna of the last ice age, including the wooly mammoths, short-faced bears and cave lions, largely went extinct because of rapid climate-warming events, a new study finds.
During the unstable climate of the Late Pleistocene, about 60,000 to 12,000 years ago, abrupt climate spikes, called interstadials, increased temperatures between 7 and 29 degrees Fahrenheit (4 and 16 degrees Celsius) in a matter of decades. Large animals likely found it difficult to survive in these hot conditions, possibly because of the effects it had on their habitats and prey, the researchers said.
Interstadials "are known to have caused dramatic shifts in global rainfall and vegetation patterns," the study's first author Alan Cooper, director for the Australian Centre for Ancient DNA at the University of Adelaide in Australia, said in a statement emailed to Live Science. [Photos: Autopsy of a 40,000-Year-Old Mammoth]
Temperature drops during the Late Pleistocene showed no association with animal extinctions, Cooper said. Instead, only the hot interstadial periods were associated with the large die-offs that hit populations (local events) and entire species of animals (global events), he said.
Ancient humans also played a role in the megafaunal extinction, albeit a smaller one, he said. By disrupting the animals' environments, human societies and hunting parties likely made it harder for megafauna to migrate to new areas and to refill areas once populated by animals that had gone extinct, he said.
Extinction analysis
The study is the latest in a long string of research examining what caused megafauna, or animals weighing more than 99 pounds (45 kilograms), to die off during the Late Pleistocene.
George Cuvier, the French paleontologist who first recognized the mammoth and the giant ground sloth, started the speculation in 1796 when he suggested that giant biblical floods were to blame for the animals' demise. The extinctions also baffled Charles Darwin after he encountered megafaunal remains in South America.
Since then, various studies have placed the bulk of responsibility on ice age humans, temperature swings and a perfect storm of events.
However, advances in examining ancient DNA and ancient climate allowed Cooper and his colleagues to get to the bottom of the issue.
They examined DNA from dozens of megafaunal species that lived during the Late Pleistocene, combing through more than 50,000 years of DNA records for extinction events. The ancient DNA not only told them about global extinction events, but also local population turnovers, which occur when a group of animals dies and another population of animals moves in to replace them. [Wipe Out: History's Most Mysterious Extinctions]
They then compared the data on megafauna extinction with detailed records of severe climate events, which they gathered from Greenland ice cores and the sedimentary record of the Cariaco Basin off Venezuela.
"By combining these two records, we can place the climate and radiocarbon dating data on the same timescale, thereby allowing us to precisely align the dated fossils against climate," Cooper said. "The high-resolution view we gained through this approach clearly showed a strong relationship between warming events and megafaunal extinctions."
The findings also show that extinction events were staggered over time and space, likely because the interstadial warming events had different effects on different regions, Cooper said.
Modern connections
Earth's climate is much more stable today than it was during the Late Pleistocene, making the world's current warming trends a "major concern," the researchers said.
"In many ways, the rise of atmospheric carbon dioxide levels and resulting warming effects are expected to have a similar rate of change to the onset of past interstadials, heralding another major phase of large mammal extinctions," Cooper said.
In addition, humans have disrupted the habitats and surrounding areas of many wild animals, making it challenging for species to migrate or shift ranges to places where they would be better adapted to deal with climate change, he said.
Other researchers called the new study an important one.
It shows "that the extinction and population turnover of many megafauna was associated with rapid warming periods, rather than the last glacial maximum [when the ice sheets reached their maximum during the last glacial period] or Younger Dryas [a sudden, cold spell that happened when the Earth was starting to warm] as has previously been suggested," said Eline Lorenzen, an assistant professor of paleogenetics at the University of Copenhagen in Denmark.
In fact, understanding how the past climate change affected extinction rates may help people be better prepared for future rapid global warming events, she said.
"This study is a bit of a wake-up call," Lorenzen said. "Here we have empirical evidence — based on data from a lot of species — that rapid climate warming has profoundly impacted megafauna communities, negatively, during the past 50,000 years.
"It doesn't bode well for the future survival of the world's megafauna populations," she said.
The study was published online today (July 23) in the journal Science.
Follow Laura Geggel on Twitter @LauraGeggel. Follow Live Science @livescience, Facebook & Google+. Original article on Live Science.
Stay up to date on the latest science news by signing up for our Essentials newsletter.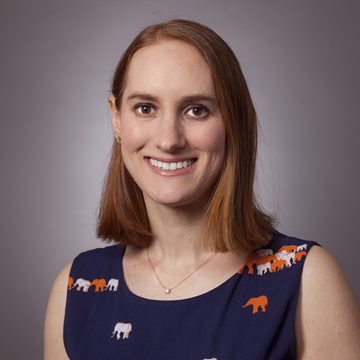 Laura is the archaeology and Life's Little Mysteries editor at Live Science. She also reports on general science, including paleontology. Her work has appeared in The New York Times, Scholastic, Popular Science and Spectrum, a site on autism research. She has won multiple awards from the Society of Professional Journalists and the Washington Newspaper Publishers Association for her reporting at a weekly newspaper near Seattle. Laura holds a bachelor's degree in English literature and psychology from Washington University in St. Louis and a master's degree in science writing from NYU.