Prenatal Exposure to Common Chemicals Linked to Lower IQ in Kids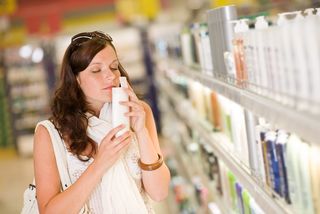 (Image credit: CandyBox Images/Shutterstock.com)
The children of women who are exposed to higher levels of chemicals called phthalates during pregnancy may have lower IQ scores than those whose mothers are exposed to lower levels of those chemicals, according to a new study. Phthalates are common in products such as plastics and the fragrances used in shampoos, air fresheners and dryer sheets.
In the study, researchers followed 328 women in New York City who were either African-American or Dominican-American, as well as their children, who were born between 1998 and 2006. The researchers measured the levels of four types of phthalates in the women's urine, and looked at the children's IQ scores at age 7.
They found that the children of mothers with the highest urine levels of two chemicals — called di-n-butyl phthalate (DnBP) and di-isobutyl phthalate (DiBP) — had IQ scores that were about 6 to 8 points lower than those of the children whose mothers had the lowest levels of those chemicals in their urine.
The findings are important because "shifts in IQ during these school-age years might have influences later on educational attainment and occupational choice for the children," said study author Pam Factor-Litvak, an associate professor of epidemiology at Columbia University's Mailman School of Public Health. [12 Worst Hormone-Disrupting Chemicals]
The researchers also found a link between the levels of those chemicals and specific aspects of IQ, such as the speed at which kids processed information, their ability to understand nonverbal information and their short-term memory.
One strength of the study was that it followed the participants over time, said Dr. Susan Klugman, director of reproductive genetics at Montefiore Medical Center in New York, who was not involved in the research.
"But I do feel that environmental toxin studies are tough, only because there are so many factors involved," and child development studies depend on the population being studied and are not always applicable to other groups, Klugman told Live Science.
The researchers noted that their findings show an association, but not a cause-and-effect link between prenatal exposure to the chemicals and lower IQ scores. However, the researchers did find consistent associations between the two.
"Before we can make any absolute conclusions about causality, a study of wider population would be helpful, for sure," said Dr. Kenneth Spaeth, director of occupational and environmental medicine at the North Shore-LIJ Health System in New York, who was not involved in the study. "I think a study like this certainly raises concerns and puts the level of concern about this much higher for everyone, not just for this population that was studied."
There may be several mechanisms behind the link between prenatal exposure to certain phthalates and children's IQ, Factor-Litvak said. First, phthalates disrupt the body's hormones, so they may affect brain development, she said.
"They may also modulate the activity of an enzyme called aromatase," which converts testosterone into estrogen, a hormone that is very important in brain development, Factor-Litvak told Live Science. Phthalates may also interfere with the production of thyroid hormone, which is a major player in the timing of brain development, she said.
Moreover, the chemicals may also disrupt the brain's activity related to the neurotransmitter dopamine, "which is linked to inattention and hyperactivity," Factor-Litvak said.
"They [the mechanisms] are not exclusionary," she said. "More than one could be going on at the same time." All of these mechanisms have been hinted at in animal studies of phthalates, she added.
To reduce the potential harmful effects from exposure to phthalates, the researchers recommended that people avoid microwaving food in plastic, and they discouraged consumers from using scented personal products. They also advised against using recyclable plastics labeled as 3, 6 or 7, which contain the chemicals, and encouraged people to start using glass containers instead of plastic ones.
When it comes to products labeled as "phthalate-free," it is not clear whether the chemicals that are used instead of phthalates are safer for health, because they have not been studied yet, Factor-Litvak said.
The use of certain phthalates in toys for young children has been banned, but there is no legislation that might affect exposure to the chemicals during pregnancy, "which is likely the most sensitive period for brain development," Factor-Litvak said. Moreover, product labels are not required to specify whether a product contains phthalates, she added.
"There is almost nothing in the world that is entirely risk-free or even toxin-free," Spaeth told Live Science. "I have never heard any public health advocates calling for the elimination of plastics. But I think most would agree that we could do a much better job in changing the ingredients used in products to an extent that would certainly put us at lower risk for exposure to phthalates and BPA [bisphenol-A], and other kinds of chemicals as well." [5 Ways to Limit BPA in Your Life]
Absent regulations, expecting mothers should pay attention to their exposure to these chemicals, Klugman said.
"There are so many environmental toxins, and I do think that pregnant women and parents have to limit prenatal and postnatal exposure, or attempt to limit it," Klugman said. "People can't live their life totally in fear, but I think we have to take a step back and think about what we do, think about what we do when we are pregnant, think about what we expose our children to," Klugman said.
The study was published today (Dec. 10) in the journal PLOS ONE.
Follow Agata Blaszczak-Boxe on Twitter. Follow Live Science @livescience, Facebook & Google+. Originally published on Live Science.
Stay up to date on the latest science news by signing up for our Essentials newsletter.