Prayer No Guarantee Against Adultery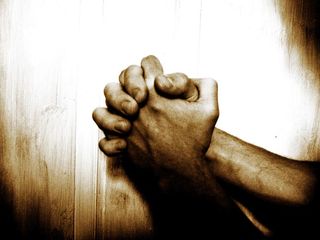 (Image credit: stock.xchng)
Strong faith in God is by itself no recipe for fidelity with a spouse. Close to the Almighty? You may not have a prayer.
Just go to church, or synagogue, mosque or temple. That could keep you faithful on more than one level, a new study suggests.
Attendance at religious services is the only faith-related activity that predicts improved chances of fidelity in marriage, according to the research.
Other factors, including prayer, were found to have no unique bearing, statistically, on whether couples fooled around on each other. In fact, those who said religion was very important to them but who didn't get to church often were more likely than others in the study to have had an affair.
Survey participants who rarely if ever attend services were about four times more likely to have had an affair compared to those who attend services with great frequency.
What's going on?
Attending services perhaps means that an individual is hearing religious teaching on marital fidelity and the general importance of marriage, the researchers suggest. The assumption is they're more likely to practice what's been preached.
But the researchers also figure that attendance implies a shared commitment by spouses and a strong network of social support.
"Individuals often marry other people who are similar to them in a variety of ways, including religiousness," explained researcher David C. Atkins of the Fuller Theological Seminary in Pasadena, Calif.
"We think that sharing similar values, incorporating values and practice into one's marriage and family, and being part of a worshipping community all may be a part of this finding between religious attendance and infidelity," Atkins told LiveScience. "Prayer, belief in God, strong faith etc. in the absence of attendance does not show this same relationship."
Atkins and Fuller colleague Deborah E. Kessel detail their findings in the May 2008 issue of the Journal of Marriage and Family.
The religion factor
In one past survey, 23 percent of men and 12 percent of women reported having an affair at some point in their marriages, Atkins and Kessel note, adding that previous studies have consistently suggested that more religious individuals are less likely to have had affairs compared to the less religious. (Sex surveys are thought to be frequently skewed, however, because people lie about the topic.)
The researchers sought to learn what aspects of religion might predict fidelity. The study was based on a review of data from the 1998 General Social Survey (GSS) conducted by the National Opinion Research Center. The surveys consisted of face-to-face interviews with questions related to religion and spirituality.
The new study "calls into question the idea that beliefs without behavior may serve a protective factor with infidelity," Atkins and Kessel conclude.
As an aside, money, or lack of it, can also suggest infidelity, the study found. Those earning between $40,000 and $60,000 a year were the least likely to report having an affair. And people previously divorced were 2.5 times more likely to report an affair in their new marriages.
Sex Quiz: Myths, Taboos and Bizarre Facts
Stay up to date on the latest science news by signing up for our Essentials newsletter.
Robert is an independent health and science journalist and writer based in Phoenix, Arizona. He is a former editor-in-chief of Live Science with over 20 years of experience as a reporter and editor. He has worked on websites such as Space.com and Tom's Guide, and is a contributor on Medium, covering how we age and how to optimize the mind and body through time. He has a journalism degree from Humboldt State University in California.