NYC Doctor Tests Positive for Ebola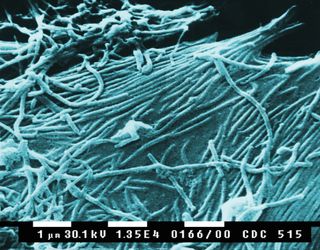 (Image credit: Cynthia Goldsmith | CDC)
A doctor in New York has Ebola, officials announced on Thursday evening (Oct. 23).
"Testing confirmed that a patient here in New York City has tested positive for Ebola," New York City Mayor Bill de Blasio said at a news conference Thursday evening.
The man is now in an isolation unit at the city's Bellevue hospital. The 33-year-old doctor was working with Doctors Without Borders in Guinea, and completed his work there on Oct. 12, Dr. Mary Travis Bassett, New York City public health commissioner, said at the news conference.
There are four people in New York who had contact with the patient, and they have been quarantined, Gov. Andrew Cuomo said. These people include the man's fiancée, two friends, and a driver who drove the patient in an Uber car. One of these contacts is now also at the hospital, Bassett said. [2014 Ebola Outbreak: Full Coverage of the Viral Epidemic]
Officials reminded the public that Ebola can only be transmitted by direct contact with an infected person, or with their bodily fluids. "Ebola is an extremely hard disease to contract," de Blasio said.
"New York is a dense place, a lot of people on top of each other. But the more facts you know, the less frightening" this situation is, Cuomo said.
Dr. Tom Frieden, director of the Centers for Disease Control and Prevention, noted that the family members of Thomas Eric Duncan -- the man in Dallas who had and eventually died from Ebola -- did not develop the disease themselves. "It does not spread easily. It does not spread like the flu, the common cold," Frieden said.
The patient arrived at JFK International Airport on Oct. 17, having left Africa on Oct. 14, travelling to the U.S. by way of Europe, Bassett said. At no time during his journey was he ill, and when he arrived in New York he still had no symptoms, she said.
The patient first developed a fever between 10 a.m. and 11 a.m. on Thursday, and contacted Doctors Without Borders.
Between arriving home and developing a fever, the patient was out and about in the city, officials said. He went for a 3-mile run, took the subway (lines A, 1 and L), and went bowling at The Gutter, in Williamsburg. The bowling alley is now closed, out of an abundance of caution, Bassett said.
"At the time the doctor was on the subway he had not had fever, and he had no problems with body fluids in the sense that he did not have diarrhea," vomiting or bleeding, Bassett said. "He was not symptomatic at that time, so he did not have a stage of disease that [would mean] a risk of contagiousness on the subway."
The city's health department released a statement earlier that a doctor who recently arrived in the United States from West Africa was being tested for the viral disease at Bellevue Hospital.
That statement also reminded the public that people cannot become infected with the disease simply by being near someone who has it. Ebola is spread through direct contact with an infected person or with their bodily fluids, according to the Centers for Disease Control and Prevention.
Health officials had already begun looking into who the doctor might have been in contact with recently, the health department said earlier.
The patient was taken to the hospital earlier on Thursday by a specially trained team wearing personal protective equipment (PPE), the health department said. "For the past few weeks we've been preparing for just this circumstance," Cuomo said at the news conference. "We are as ready as one could be for this circumstance."
"What happened in Dallas was actually the exact opposite," he said. "We had the fortune of learning from the Dallas experience."
In New York, the affected person is a doctor, so he was familiar with the possibility and the symptoms of Ebola, and he handled himself accordingly, he said.
Bellevue Hospital is a facility that has been designated to isolate and treat cases of Ebola in New York. The hospital has four single-bed rooms in its infectious disease ward for treating Ebola patients. A laboratory in the same area of the hospital will handle blood samples to be tested for the virus, according to an earlier announcement from NYC Health and Hospitals Corporation.
Follow Karen Rowan @karenjrowan. Follow Live Science @livescience, Facebook & Google+. Original article on Live Science.
Stay up to date on the latest science news by signing up for our Essentials newsletter.

Karen came to LiveScience in 2010, after writing for Discover and Popular Mechanics magazines, and working as a correspondent for the Journal of the National Cancer Institute. She holds an M.S. degree in science and medical journalism from Boston University, as well as an M.S. in cellular biology from Northeastern Illinois University. Prior to becoming a journalist, Karen taught science at Adlai E. Stevenson High School, in Lincolnshire, Ill. for eight years.