How Ancient Trade Changed the World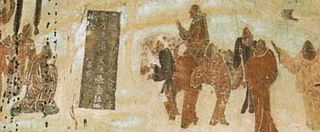 Each Monday, this column turns a page in history to explore the discoveries, events and people that continue to affect the history being made today.
You've got the gold I need for my necklace and I've got the silk you need for your robe.
What to do?
Nowadays, if you need something, you go to the closest mall, shell out a few bucks and head home. Thousands of years ago, the process wasn't nearly as simple. If you or someone in your town didn't grow it, herd it or make it, you needed to abandon that desire or else travel for it, sometimes over great distances. For many towns, the effort of trade was too much. Those ancient towns make only rare appearances in our history books.
When the first civilizations did begin trading with each other about five thousand years ago, however, many of them got rich… and fast.
Trade was also a boon for human interaction, bringing cross-cultural contact to a whole new level.
Luxury goods
When people first settled down into larger towns in Mesopotamia and Egypt, self-sufficiency – the idea that you had to produce absolutely everything that you wanted or needed – started to fade. A farmer could now trade grain for meat, or milk for a pot, at the local market, which was seldom too far away.
Cities started to work the same way, realizing that they could acquire goods they didn't have at hand from other cities far away, where the climate and natural resources produced different things. This longer-distance trade was slow and often dangerous, but was lucrative for the middlemen willing to make the journey.
The first long-distance trade occurred between Mesopotamia and the Indus Valley in Pakistan around 3000 BC, historians believe. Long-distance trade in these early times was limited almost exclusively to luxury goods like spices, textiles and precious metals. Cities that were rich in these commodities became financially rich, too, satiating the appetites of other surrounding regions for jewelry, fancy robes and imported delicacies.
It wasn't long after that trade networks crisscrossed the entire Eurasian continent, inextricably linking cultures for the first time in history.
By the second millennium BC, former backwater island Cyprus had become a major Mediterranean player by ferrying its vast copper resources to the Near East and Egypt, regions wealthy due to their own natural resources such as papyrus and wool. Phoenicia, famous for its seafaring expertise, hawked its valuable cedar wood and linens dyes all over the Mediterranean. China prospered by trading jade, spices and later, silk. Britain shared its abundance of tin.
Pit stops
In the absence of proper roads, the most efficient way to transport goods from one place to another was by sea.
The first and most extensive trade networks were actually waterways like the Nile, the Tigris and the Euphrates in present-day Iraq and the Yellow River in China. Cities grew up in the fertile basins on the borders of those rivers and then expanded by using their watery highways to import and export goods.
The domestication of camels around 1000 BC helped encourage trade routes over land, called caravans, and linked India with the Mediterranean. Like an ancient version of the Wild West frontier, towns began sprouting up like never before anywhere that a pit-stop or caravan-to-ship port was necessary. Many of the better-known satellite towns of Rome and Greece were founded this way, stretching those fabled empires further afield until their influences crossed continents.
And in each of these places, foreign traders drank in port towns and shared stories and customs from back home, leaving more than just their parcels behind.
Stay up to date on the latest science news by signing up for our Essentials newsletter.
Heather Whipps writes about history, anthropology and health for Live Science. She received her Diploma of College Studies in Social Sciences from John Abbott College and a Bachelor of Arts in Anthropology from McGill University, both in Quebec. She has hiked with mountain gorillas in Rwanda, and is an avid athlete and watcher of sports, particularly her favorite ice hockey team, the Montreal Canadiens. Oh yeah, she hates papaya.