Ebola Update: Texas Patient Has 'Taken a Turn for the Worse'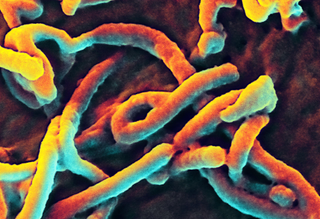 (Image credit: CDC/ NIAID)
The health of the man with Ebola in Texas is worsening, officials said today.
"His situation has taken a turn for the worse," said Dr. Tom Frieden, director of the Centers for Disease Control and Prevention, speaking to reporters on Sunday (Oct. 5).
The experimental medicine called ZMapp is not being used to treat patient Thomas Eric Duncan, Frieden said. Supplies of the drug have run out, he said. The drug contains three antibodies to the Ebola virus, and was previously used to treat the first two U.S. health care workers who became sick with Ebola while working in West Africa, and who later recovered. Frieden noted that it remains unclear whether the drug works to treat Ebola infections.
Officials also said they are looking for a homeless man who may have had contact with Duncan.
Police and other authorities are looking to find this person, who was last seen by authorities yesterday. The man has shown no symptoms of Ebola, and is considered a low-risk individual, stressed Dallas county judge Clay Lewis Jenkins.
The man is among the approximately 50 people who officials want to monitor with daily temperature checks. To date, none of those people have developed any symptoms of Ebola, officials said.
The 50 people being montiored by authorities include 10 who are considered higher risk because they had definite contact with Duncan. These 10 include seven health care workers and three family members, Frieden said. The seven health care workers are staying home from work for the time being, he said.
In the wake of the Texas case, the CDC is seeing a large increase in the number of phone calls and emails it recieves daily involving "concerns" about Ebola, Frieden said. Prior to the Texas case, the CDC was getting about 50 calls daily, but that number is now 800, he said.
The ongoing Ebola outbreak in West Africa has sickened more than 7,150 people since it began in early 2014. More than 3,300 of the patients have died, according to the World Health Organization. [5 Things You Should Know About Ebola]
Duncan developed symptoms four days after arriving in Texas from Liberia. He is being treated in isolation at Texas Health Presbyterian Hospital.
An NBC News cameraman who was covering the outbreak in Liberia recently became ill with Ebola, and is now the fifth American infected with Ebola. The man is set to return to the U.S. for treatment on Sunday, NBC reported. Previously, four U.S. health workers were infected with Ebola while working in West Africa and were brought to the United States for treatment.
Frieden said that he will brief President Barak Obama on the situation with the Ebola outbreak in West Africa on Monday.
Stay up to date on the latest science news by signing up for our Essentials newsletter.

Karen came to LiveScience in 2010, after writing for Discover and Popular Mechanics magazines, and working as a correspondent for the Journal of the National Cancer Institute. She holds an M.S. degree in science and medical journalism from Boston University, as well as an M.S. in cellular biology from Northeastern Illinois University. Prior to becoming a journalist, Karen taught science at Adlai E. Stevenson High School, in Lincolnshire, Ill. for eight years.