Bachelor Party Stumbles Upon Rare Mastodon Skull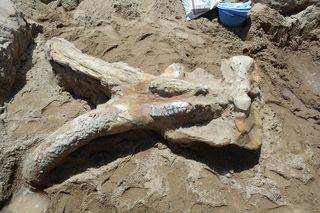 (Image credit: Randall Gann/New Mexico Museum of Natural History and Science)
Elephant Butte Lake State Park in New Mexico is named for an elephant-shaped hill on the north side of the park, but now the name seems even more appropriate after a bachelor party hiking there discovered a 3-million-year-old stegomastodon skull — the prehistoric ancestor of mammoths and elephants.
Members of the bachelor party noticed a bone sticking a couple inches out of the sand by the Rio Grande River earlier this month, the Telegraph reported. The men dug up what turned out to be an enormous skull and sent photos to the New Mexico Museum of Natural History and Science. Paleontologists who arrived on the scene identified the remains as a stegomastodon skull. [See Photos of the Mastodon Skull from the Excavation]
Gary Morgan, paleontologist at the New Mexico Museum of Natural History and Science who identified the skull, said it's not uncommon for hikers and other passersby to discover major fossils like this one in the park.
"I've been on a lot of wild-goose chases in the area," Morgan told Live Science. "But after I got a look at the photos I said, 'Geez, it really is a mastodon skull.'" (Stegomastodons looked similar to the American mastodon, but they belonged to a separate genus of animals.)
The bachelor party thought the fossil might belong to a woolly mammoth. Though the two beasts are similar and related to each other, there a few key differences between mammoths and mastodons, Morgan said. Mammoths have ridged molars and grazed like modern-day elephants, while mastodons sported cone-shaped molars that allowed them to crush leaves and twigs. Examining the teeth of the skull allowed Morgan to determine it belonged to a mastodon and not a mammoth.
Morgan said the skull is one of the most complete mastodon fossils ever discovered.
"Normally we get bits and pieces," Morgan said. "A complete fossil find like this makes it much more important scientifically and more helpful in understanding the evolutionary history."
The excavation process took about six hours since the bachelor party had helped out with a little pre-digging. After it was unearthed, the skull was wrapped in plaster casting, "the same way a doctor would put a cast on a broken arm," Morgan said. This way the fossil could be transported safely to the museum.
Fossil evidence suggests mastodons were probably around 9 to 10 feet (2.7 to 3 meters) tall and weighed around 3 to 5 tons (2,721to 4,535 kilograms). Morgan said this particular mastodon skull belonged to a species that sprung up around 3 million years ago right before the Ice Age. It was probably about 50 years old when it died. Mastodons died out completely around 10,000 years ago, and paleontologists are still unsure of what led to their extinction.
Morgan will conduct a study of the skull and hopes it will provide more insight into the history of the species. The skull will eventually be on display in the museum, but cleaning off the plaster and removing all the sediment from the fossil will take a long time, and it will likely be months before the fossil is ready.
Follow Kelly Dickerson on Twitter. Follow us @livescience, Facebook & Google+. Original article on Live Science.
Stay up to date on the latest science news by signing up for our Essentials newsletter.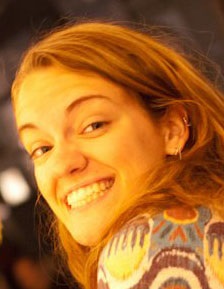 Kelly Dickerson is a staff writer for Live Science and Space.com. She regularly writes about physics, astronomy and environmental issues, as well as general science topics. Kelly is working on a Master of Arts degree at the City University of New York Graduate School of Journalism, and has a Bachelor of Science degree and Bachelor of Arts degree from Berry College. Kelly was a competitive swimmer for 13 years, and dabbles in skimboarding and long-distance running.