Jiggy Mazda and the Spiders from Cars (Op-Ed)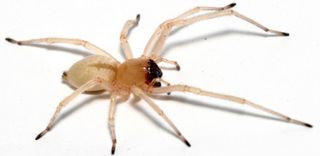 (Image credit: J. Lapp)
This article was originally published at The Conversation. The publication contributed the article to Live Science's Expert Voices: Op-Ed & Insights.
Recently, the car manufacturer Mazda recalled 40,000 cars because of a "spider invasion". This is not the first time it has happened with Mazda cars. In 2011, a similar reason was given for recalling 52,000 cars.
As a spider expert, I was intrigued by this sentence in a BBC news article:
I am not surprised that spiders are finding their way into various parts of cars. After all, spiders get everywhere. But can spiders really sniff petrol?
Turns out some spiders are attracted to hydrocarbons, chemicals that contain hydrogen and carbon. But, although petrol is also made of hydrocarbons, those spiders are attracted to a specific kind of hydrocarbon called cuticular hydrocarbons, which are present in the exoskeletons of arthropods such as scorpions. I could not find evidence for spiders being attracted to the smell of petrol.
Here's what I think is going on: in one car manufacturing plant, there were many sac spiders, and a few of these arachnids found their way into various parts of cars being manufactured in that plant. The documents from Mazda actually support this. There appears to be a single plant in Michigan where the most recent events occurred. The firm says:
The word "may" is important here. I have not found any documents to suggest they are specifically attracted to that part of the car. Perhaps it is just a nice habitat: dark, and maybe the correct shape and size.
I am not suggesting Mazda was wrong in its decision to recall the class of car. Undoubtedly, it sounds like there is a problem that needs addressing, and that problem may be associated with the silk from sac spiders. They are going to address it by applying a software fix that will warn drivers if the spiders' webs have caused blockages.
However, somewhere along the line, it was suggested that the spiders are actually smelling petrol. Before you know it, it has become a spider invasion caused by terrifying gas-sniffing arachnids.
One early report regarding the spiders' apparent attraction to the aroma of the gas tank came from an automotive journalist, in 2011. Mitsuhiro Kunisawa wrote in that piece:
But I have found no evidence that this is the case.
The sac spiders implicated in this story are very common, especially in human-buildings. It should be no surprise that they are also in a plant manufacturing cars. However, I think drivers of Mazda cars should drive in peace. Sac spiders are not going to be jumping out of the nooks and crannies of the seat-cushions of your Mazda.
Chris Buddle does not work for, consult to, own shares in or receive funding from any company or organisation that would benefit from this article, and has no relevant affiliations.
This article was originally published on The Conversation. Read the original article. Follow all of the Expert Voices issues and debates — and become part of the discussion — on Facebook, Twitter and Google +. The views expressed are those of the author and do not necessarily reflect the views of the publisher. This version of the article was originally published on Live Science.
Stay up to date on the latest science news by signing up for our Essentials newsletter.