Bottom's Up: Feds Rethink Powdered Alcohol Approval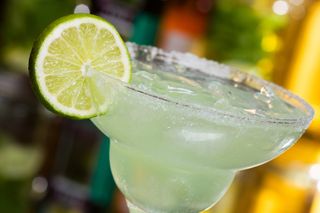 (Image credit: <a href="http://www.shutterstock.com/gallery-387556p1.html">Nitr</a> / <a href="http://www.shutterstock.com/?cr=00&pl=edit-00">Shutterstock.com</a>)
In a move that was bound to sow panic among parents of teenagers, the U.S. Alcohol and Tobacco Tax and Trade Bureau approved the sale of powdered alcohol earlier this month.
In other words, a tiny pouch of powdered mix could instantly turn any drink — water, juice or soda — into an alcoholic cocktail. It could even be added to food: Just sprinkle it on your pancakes or cereal for a boozy breakfast.
The product, named Palcohol, was expected be available as early as this fall — just in time for tailgate parties, fraternity/sorority rush events and holiday get-togethers. But now, in a surprising turnaround, the bureau appears to have reconsidered its earlier approvals, and stated that they were issued in error, according to the Associated Press. [10 Easy Paths to Self Destruction]
The birth of Palcohol
Palcohol was developed by Mark Phillips, a Phoenix-area entrepreneur and author of "Swallow This: The Progressive Approach to Wine" (20 Sips, 2009). An active outdoorsman, Phillips was frustrated by the hassle of carrying bottles of wine or liquor to enjoy after a day of biking or kayaking.
So, according to the developer's website, Phillips created Palcohol, "a great convenience for the person on the go. One package weighs about an ounce and is small enough to fit into any pocket."
The company proposes releasing two different formulas, V (made from vodka) and R (a rum-based powder). Additionally, consumers will be able to buy powdered versions of popular cocktails such as the mojito, the lemon drop and the "powderita," a powdered margarita.
"It's not just for the sportsperson," the website claims. "Palcohol can be transported in your luggage without the fear of bottles breaking. In any situation where weight and breakage is an issue, Palcohol provides the answer."
Likely to cause controversy
But not everyone was enthusiastic about a small, easily concealed pack (or two, or three) of powdered booze that can instantly transform a bottle of water or juice into a heady cocktail.
"As with anything 'new,' this product may be attractive to youth, so MADD [Mothers Against Drunk Driving] encourages parents to talk with their teens about the dangers of underage drinking — because alcohol is illegal for those under 21, no matter how it's packaged," according to a blog post on the MADD website.
"I am not astonished that this is a real product — but I am absolutely astonished that this is approved," said Robert Lehrman, author of Bevlog and an attorney at Lehrman Beverage Law, a Washington, D.C., law firm focused on the federal regulation of alcohol.
"The person that pushed this through must be very patient or lucky and/or good. The product seems highly likely to raise a large number of legal issues and controversies," Lehrman wrote.
The fact that the government's approval of Palcohol has been suddenly been rescinded as an error appears odd to Lehrman: "An oversight of this nature does not ring true to me," Lehrman told AP, suggesting that the bureau may have heard from lawmakers asking pointed questions about powdered alcohol.
Can you snort it?
As if highlighting concerns over the Palcohol's potential for abuse, the company's website has an FAQ section that asks: "Can I snort it?"
Their answer is: "Don't do it! It is not a responsible or smart way to use the product. To take precautions against this action, we've added volume to the powder so it would take more than a half of a cup of powder to get the equivalent of one drink up your nose. You would feel a lot of pain for very little gain. Just use it the right way," the website states.
"We want to emphasize again, when Palcohol is available, to use it responsibly and legally," the website adds.
Follow Marc Lallanilla on Twitter and Google+. Follow us @livescience, Facebook & Google+. Original article on Live Science.
Stay up to date on the latest science news by signing up for our Essentials newsletter.
Marc Lallanilla has been a science writer and health editor at About.com and a producer with ABCNews.com. His freelance writing has appeared in the Los Angeles Times and TheWeek.com. Marc has a Master's degree in environmental planning from the University of California, Berkeley, and an undergraduate degree from the University of Texas at Austin.