Man's Best Friend Helps Traumatized Veterans Heal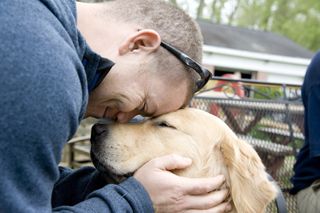 (Image credit: Photo courtesy Warrior Canine Connection)
When U.S. Navy hospital corpsman Marshall Peters returned from a tour of duty in Kandahar, Afghanistan, in 2010, he couldn't sleep. He felt depressed and anxious, and hated being around crowds or loud noises. Like many veterans returning home from Iraq and Afghanistan, Peters was suffering from post-traumatic stress disorder, or PTSD.
Then, he started working with Lundy, a golden retriever he named after his former roommate who was killed in action. Through the nonprofit organization Warrior Canine Connection, Peters and other veterans with PTSD, traumatic brain injury (TBI) and other health problems started training service dogs for other disabled veterans. The soldiers report that the dog training helped ease their symptoms and made it easier to readapt to society.
"I found myself no longer relying on the antidepressants, anti-anxiety meds or medication for sleep that I was taking before to 'treat' my PTSD, depression and insomnia," said Peters, who was honorably discharged from the Navy in 2012. "I didn't know at the time that what I was doing with the therapy dogs was therapy for myself at well." [See Photos of the Veterans and Service Dogs]
Healing through training
Today, about 20 percent of Iraq war veterans and 11 percent of Afghanistan war veterans suffer from PTSD, the U.S. Department of Veterans Affairs estimates. Soldiers can develop PTSD after a traumatic experience that involves bodily harm or the threat of bodily harm. The disorder alters or damages the normal fight-or-flight response, making those suffering from it feel stressed or scared even when there's no danger.
Perhaps because of the stigma associated with seeking help, or maybe due to survivor guilt, veterans often resist seeking psychiatric therapy, and for those who do, the treatment is not always effective, said Meg Daley Olmert, director of research for Warrior Canine Connection. But working with the dogs offers an alternative.
"It's the actual training of the dog that is therapeutic," Olmert told Live Science. The task requires focused attention, engagement, discipline, patience and emotion — "all the very things damaged by PTSD," she said.
The nonprofit has received funding from the U.S. Department of Defense for a study to probe the physiological mechanisms behind this canine therapy. Olmert said she thinks the act of training the dogs may engage some of the same brain chemistry as parenting. The biology that promotes feelings of social attachment to children — release of the neurotransmitter oxytocin — also reduces feelings of stress in the brain, by turning off the fight-or-flight reflex, she said. Having veterans train dogs "is the perfect way to nonpharmacologically activate this [anti-stress] system, by teaching patients how to be parents to these dogs."
Parenting skills
Indeed, some veterans who have worked with Warrior Canine Connection report that training a dog helped them become better parents. [Like Dog, Like Owner: What Breeds Say About Your Personality]
Retired Marine Sgt. Jon Gordon suffered from PTSD and insomnia after a deployment in Afghanistan, and he said it affected his relationship with his 5-year-old daughter.
"Little time was spent praising her for the things she did right, while most of my energy was focused on the negative things she did," Gordon wrote in an unpublished essay provided with permission to Live Science. "While I was training the dogs, they were also training me, unknowingly at first, how to be a better parent," he added.
Training a dog requires emotional control, a skill that is critical for people recovering from trauma. Gordon told Live Science how he learned to use his voice to provide positive or negative feedback to the dog. He would use his "Richard Simmons voice" when the animal was doing the right thing, and his "Arnold Schwarzenegger voice" when it wasn't, he said.
Though Gordon admits he still has a way to go, working with the dogs has made him a more patient and effective parent, he said.
How it started
As it happens, parenting is where the program began.
Back in 1996, Rick Yount, who was a social worker working with foster children, recalls taking an 11-year-old boy away from his biological mother to an emergency foster home; Yount happened to bring his golden retriever puppy, Gabe, along for the ride. The boy was understandably hysterical, but at some point during the ride, the child started petting the dog on his lap, and he calmed down. Yount realized the power of the dog's presence, and he certified Gabe as a service dog.
In 2001, Yount started a service-dog training program, enlisting at-risk teens to help train the dogs, to help the youth develop healthy social and emotional skills. In 2008, Yount started a similar program at a treatment center in Palo Alto, Calif., for veterans with PTSD, an anxiety disorder caused by extreme emotional trauma.
As a result of the program's efficacy, Yount launched a service-dog training program at the National Intrepid Center of Excellence at the Walter Reed National Military Medical Center in Bethesda, Md., in 2010.
Service men and women "are trained so well, and when they come back from war, they're going back into community and family settings, and their training doesn't suit them so well for family or community life," Yount said. The idea is that by working with the dogs, the veterans will relearn the skills necessary to function in society, he told Live Science.
The dogs then go on to become service dogs for veterans with physical disabilities. This gives veterans a continued sense of having a mission, Yount said, adding that it's part of the "warrior ethos."
About 85 veterans have taken part in the dog-training program so far, and the program has recently graduated its first five dogs.
Fido's healing power
The idea of using dogs to rehabilitate wounded soldiers isn't new. The use of therapy dogs goes back to World War II, when American Cpl. William Wynne found an abandoned Yorkshire terrier, whom he named Smoky, on the battlefield. When Wynne was recovering from a tropical disease at a hospital in New Guinea, Smoky made the rounds on the ward, visiting wounded soldiers and sleeping alongside Wynne.
These days, the use therapy dogs is widespread, for everyone from the elderly to victims of mass shootings. Their use in treating PTSD is still relatively new, but more and more programs are springing up.
The American Humane Association in Washington, D.C., a nonprofit dedicated to protecting children and animals, has a similar program that pairs service dogs with veterans, called Wags4Patriots.
"Research has shown [dogs] can provide social support as a coping strategy in dealing with trauma," said Amy McCullough, national director of animal-assisted therapy at the nonprofit.
The animals have been known to decrease blood pressure and heart rate, boost feeling of self-worth and reduce stress, McCullough said. Plus, the dogs need to be cared for. "It's a reason to get out of bed in the morning," she said.
Follow Tanya Lewis on Twitter and Google+. Follow us @livescience, Facebook & Google+. Original article on Live Science.
Stay up to date on the latest science news by signing up for our Essentials newsletter.
Tanya was a staff writer for Live Science from 2013 to 2015, covering a wide array of topics, ranging from neuroscience to robotics to strange/cute animals. She received a graduate certificate in science communication from the University of California, Santa Cruz, and a bachelor of science in biomedical engineering from Brown University. She has previously written for Science News, Wired, The Santa Cruz Sentinel, the radio show Big Picture Science and other places. Tanya has lived on a tropical island, witnessed volcanic eruptions and flown in zero gravity (without losing her lunch!). To find out what her latest project is, you can visit her website.