Earthquake Swarm Shakes Central Idaho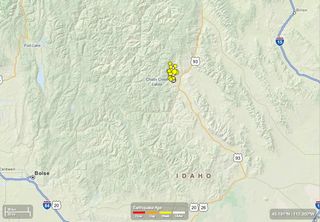 (Image credit: USGS)
A magnitude-4.9 earthquake in central Idaho on Saturday (April 12) was the biggest of three weeks of small to moderate temblors that have unnerved residents in this remote region of the Northwest.
Seismologists are now installing at least three portable earthquake-monitoring instruments near the town of Challis to better understand the cause of the seismic swarm. While small earthquakes are common in Idaho, the swarm is not far from the epicenter of the state's largest quake, the magnitude-6.9 Borah Peak earthquake in 1983. The seismometers will help scientists better pinpoint the location and depth of future earthquakes, said Katherine Whidden, a seismologist with the University of Utah Seismograph Stations network, which is adding the new instruments.
"This whole region is prone to earthquakes," Whidden told Live Science. "Sometimes it's kind of a surprise when they do happen, but it's not unusual or unexpected."
Seismologists can't predict whether a bigger earthquake is coming, but it's a good bet the quakes aren't linked to any underground volcanic activity, Whidden said. Challis is about 100 miles (160 kilometers) north of Idaho's Craters of the Moon National Monument, an eerie volcanic landscape, and about 200 miles (320 km) west of Yellowstone National Park, home to one of the biggest magma chambers on Earth. [Big Blasts: History's 10 Most Destructive Volcanoes]
However, Challis does sit in a zone of seismic activity that stretches from Idaho through Wyoming and Utah, called the Intermountain Seismic Belt, Whidden explained. There have been 50 earthquakes between magnitude 5.5 and magnitude 7.5 within the zone since 1900.
"This is a good reminder to all of us who live in earthquake country to be prepared," Whidden said.
Most of the faults within the seismic belt are normal faults, which are fractures where the Earth's crust is extending, or stretching apart. The biggest is the Wasatch Fault, which marks the front of the Wasatch Mountains in Salt Lake City. The small to moderate earthquakes in the past weeks all had a component of normal faulting, Whidden said.
A magnitude-4.1 quake struck Thursday (April 10) and a 4.4 temblor hit Monday (April 14), according to the U.S. Geological Survey. More than 20 quakes bigger than magnitude-2 have rattled residents near Challis since the swarm started March 24. The earthquakes originated about 6 to 15 miles (10 to 24 km) north of Challis, in a sparsely populated of Idaho.
A moderate earthquake also hit Yellowstone at the end of March.
Email Becky Oskin or follow her @beckyoskin. Follow us @OAPlanet, Facebook and Google+. Original article at Live Science's Our Amazing Planet.
Stay up to date on the latest science news by signing up for our Essentials newsletter.
Becky Oskin covers Earth science, climate change and space, as well as general science topics. Becky was a science reporter at Live Science and The Pasadena Star-News; she has freelanced for New Scientist and the American Institute of Physics. She earned a master's degree in geology from Caltech, a bachelor's degree from Washington State University, and a graduate certificate in science writing from the University of California, Santa Cruz.