Low-Cost Tech Helps Brain-Injured Patients Speak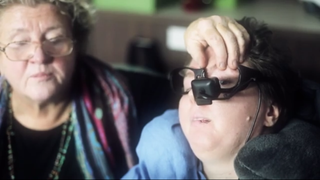 (Image credit: <a href="http://www.youtube.com/watch?v=2sFJCT-a4zo">YouTube</a> screenshot)
Editor's Note: This writer was a colleague of the founder of SpeakYourMind in Brown University's BrainGate lab.
A week before Maggie Worthen was due to graduate from Smith College, she suffered a severe brain stem stroke that left her unable to move or speak. She was only 22. Maggie's doctors diagnosed her as being in a persistent vegetative state. But Maggie's mother kept looking for a way to get through to her daughter.
Maggie was able to move one eye, and over time it became clear that her mind was intact, but she was essentially trapped inside her body. Using an expensive eye-tracking system, Maggie was able to communicate rudimentarily. But the system was complicated and required a lot of adjustments to work properly, said Maggie's mother, Nancy Worthen.
"There are so many people like [Maggie]," Nancy Worthen said. "They're frustrated because their computer is broken, or doesn't have the right software."
Then, Maggie and her mom met Dan Bacher.
Simple and affordable
Bacher is the founder and executive director of the SpeakYourMind Foundation, a nonprofit in Providence, R.I., that develops low-cost technologies to restore communication to people who lack the ability due to stroke, amyotrophic lateral sclerosis (ALS, or Lou Gehrig's disease), brain injury or other problems. The nonprofit spun off from the BrainGate lab at Brown University, which is developing a brain-computer interface to allow people with paralysis to control computers or a prosthetic arm using their thoughts alone. [5 Crazy Technologies That Are Revolutionizing Biotech]
Maggie started working with SpeakYourMind in July 2013. Bacher and his team developed a prototype eye-tracking tool called "SYMeyes" — consisting of a webcam mounted on a pair of what Bacher calls "hipster" glasses, with custom-made software — that allows Maggie to answer yes or no questions by moving her eye. The eye-tracker system cost about $30. Comparable systems on the market run about $10,000 to $15,000, Bacher said.
Cathy Hutchinson, 58, was a participant in a clinical trial of the BrainGate system. Cathy suffered a stroke 16 years ago that, like Maggie's, left her paralyzed and unable to speak. Cathy made headlines in 2012 when she used BrainGate to control a robotic arm to pick up and drink from a bottle.
Bacher developed a system that allowed Cathy to spell words by controlling a computer cursor on a virtual keyboard, using signals from the BrainGate implant. Now, he has built a device that allows her to control the cursor by raising an eyebrow. The virtual keyboard also suggests word completions to speed up typing. [Photos: Quadriplegic Woman Uses Mind-Controlled Prosthesis]
"I started building prototypes and solutions while full-time at Brown," Bacher said. "The experience of successfully building a couple of these prototypes made me realize that if I built a bunch, I could really help a lot of people," he told Live Science.
Custom-built solutions
Bacher assembled a team of volunteers and students to develop low-cost, personalized eye-tracking and head-tracking technologies, using basic components available at most electronics stores, a laptop and custom software.
The key insight, Bacher said, is personalization. "It could be taking stuff off-the-shelf or building something completely from scratch — it depends on a person's abilities or needs," he added.
Another SpeakYourMind participant, Aaron Loder, 52, has ALS, or Lou Gehrig's disease, a progressive disease that causes degeneration of the nerve cells and spinal cord. After Aaron was diagnosed with ALS, he attended his high-school reunion and remained active on Facebook. But over time he dropped off the map, his classmates said.
Aaron's classmate Maureen Delaney went to visit him in the rehab hospital where he was living, and what she found shocked her. Aaron was on a respirator with a feeding tube, and completely unable to communicate. He didn't have any family to advocate for him either, Delaney said.
Aaron "wants to be able to communicate with the outside world," Delaney told Live Science. "He misses people."
In October 2013, Delaney read an article about SpeakYourMind in the local newspaper, and got in touch with Bacher. Now, SpeakYourMind is developing a version of the eye-tracking glasses to allow Aaron to communicate and control a computer so that he can use Facebook to connect with his friends again.
SpeakYourMind's work aims to help not only Maggie, Cathy and Aaron, but anyone who has difficulty communicating, whether it's because of a brain injury or illness, or even disorders such as autism.
The nonprofit is supported mostly by donations and is currently pursuing a crowd-funding campaign on the website indiegogo, which ends at 2:59 p.m. ET Monday (Feb 17). So far, the campaign has raised more than $22,000.
As for Bacher, "My personal goal," he said, "is to help as many people as possible."
Follow Tanya Lewis on Twitter and Google+. Follow us @livescience, Facebook & Google+. Original article on Live Science.
Stay up to date on the latest science news by signing up for our Essentials newsletter.
Tanya was a staff writer for Live Science from 2013 to 2015, covering a wide array of topics, ranging from neuroscience to robotics to strange/cute animals. She received a graduate certificate in science communication from the University of California, Santa Cruz, and a bachelor of science in biomedical engineering from Brown University. She has previously written for Science News, Wired, The Santa Cruz Sentinel, the radio show Big Picture Science and other places. Tanya has lived on a tropical island, witnessed volcanic eruptions and flown in zero gravity (without losing her lunch!). To find out what her latest project is, you can visit her website.