Genetic Upper Class: Could the Human Race Split?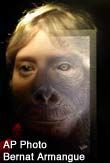 Could the human species split in two over time due to evolutionary pressures as predicted by science fiction writer H.G. Wells?
Evolutionary theorist Oliver Curry of the London School of Economics believes it could happen in 100,000 years. I couldn't resist this story, even though Dr. Curry's degree is apparently a Ph.D. "on the evolution of human moral sentiments" rather than in evolutionary genetics.
"Underclass" human beings will have devolved into dim-witted, short, goblin-like creatures.
Chins would recede, as a result of chewing on carefully processed foods. Reliance on medicine would result in weakened immune systems, with genetic weaknesses no longer thrown out of the gene pool. The logical outcome, says Curry, would be two sub-species of human beings; one group gracile (slim and attractive) and the other more robust and physically strong.
Wells wrote about what is called "allopatric speciation," in which physically isolated populations no longer interbreed [Editor's note: Darwin wrote of this phenomenon's occurrence in the animal kingdom].
Curry is apparently proposing speciation without geographic isolation—what is called "sympatric speciation." Some scientists reject it outright. One species, the Rhagoletis pomonella maggot, which originally fed on hawthorn fruit, may be undergoing sympatric speciation in this country following the introduction of the apple in North America. Rhagoletis pomonella that feed on apples no longer feed on hawthorn fruit and vice-versa.
Take a look at more of H.G. Wells' ideas and inventions (apparently "torn from today's headlines"). Read a standard example of the story here; Dr. Curry's remarks were prepared for and delivered on the 21st anniversary of Bravo, a men's television channel.
(This Science Fiction in the News story used with permission from Technovelgy.com
Stay up to date on the latest science news by signing up for our Essentials newsletter.
Bill Christensen catalogues the inventions, technology and ideas of science fiction writers at his website, Technovelgy. He is a contributor to Live Science.