Your Holiday Table: Fresh, Frozen or Canned Veggies?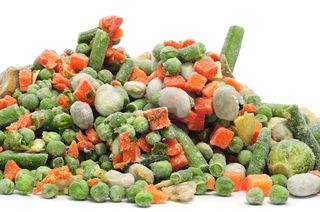 (Image credit: <a href='http://www.shutterstock.com/pic.mhtml?id=93688549&src=id'>Frozen vegetables photo</a> via Shutterstock)
The holiday season is a time when our daily agenda items can be trumped by long-standing traditions, such as baking Christmas cookies from scratch, or taking the time to thread popcorn kernels one-by-one together to make garland.
Many people I know would feel guilty preparing a green bean casserole with frozen beans or (gasp) using frozen corn for grandma's corn pudding recipe. But are frozen vegetables really inferior? What about canned?
Research has provided some answers.
Frozen vs. Fresh
Frozen fruits and vegetables may have higher levels of vitamins A and C, and folate, compared with their fresh counterparts that have been stored for five days, according to a 2013 University of Georgia study. The researchers evaluated the vitamin and mineral content of eight fruits and vegetables and found that some had. [10 New Ways to Eat Well]
This study supports the findings of a 1998 Food Chemistry study, which found that the vitamin C content of frozen peas and broccoli was similar to the typical fresh versions you might find at your local grocer.
There isn't a clear winner and loser in the match between frozen vs. fresh because so much depends on when you consume the fresh produce. But what is clear is that frozen vegetables may have more nutritional value than many have thought.
Canned vs. Frozen
In the question of how canned veggies compare with frozen, researchers have found that frozen peas may have substantially higher antioxidant activity than their canned or jarred counterparts, according to a 2002 study in the journal Innovative Food Science and Emerging Technologies.
It's true that canning often lowers the content of water-soluble nutrients, and those that are broken down at high temperatures, but more research must be done to determine whether there are other nutritional benefits of eating canned vegetables, according to a 2007 review in the Journal of the Science of Food and Agriculture.
Bottom Line: If you're lucky enough to live near a farm, or be able to eat your produce freshly picked from the vine, then eating fresh produce is probably a better option than frozen or canned.
But most of us aren't that lucky. So according to the research, frozen fruits and vegetables are a suitable alternative, and in some cases may even be more nutritious than fresh. Canned vegetables are a convenience, but may lack the antioxidants found in fresh or frozen versions.
Healthy Bites appears weekly on LiveScience. Deborah Herlax Enos is a certified nutritionist and a health coach and weight loss expert in the Seattle area with more than 20 years of experience. Read more tips on her blog, Health in a Hurry!
Stay up to date on the latest science news by signing up for our Essentials newsletter.
Deborah Enos, CN, also known as "The One-Minute Wellness Coach," is The Health Coach for busy, working people. She pares her good-health messages down to simple and fast bullet points that can impact lives in 60 seconds or less. Deborah serves as a board member of the American Heart Association. In addition to writing the Healthy Bites column for Live Science, Deborah is a regular on FOX Business News, NBC and ABC, and is a frequent contributor to The Costco Connection, Parade Magazine, Self Magazine, Good Housekeeping and USA Today. Deborah is also The One Minute Wellness Coach for The Doctors TV Show.