100 Years After Death, Evolution's Other Discoverer Gains Recognition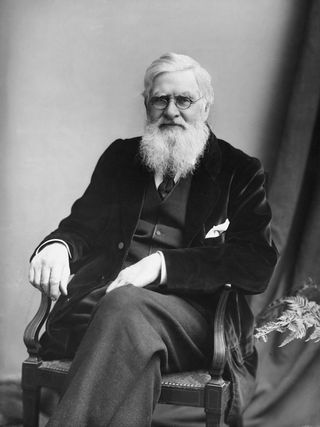 (Image credit: London Stereoscopic & Photographic Company | Wikipedia.)
"The beauty and brilliancy of this insect are indescribable, and none but a naturalist can understand the intense excitement I experienced when I at length captured it. On taking it out of my net and opening the glorious wings, my heart began to beat violently, the blood rushed to my head, and I felt much more like fainting than I have done when in apprehension of immediate death. I had a headache the rest of the day, so great was the excitement produced by what will appear to most people a very inadequate cause." (The Malay Archipelago, 1869)
Imagine if you could get that excited about anything, let alone insect collecting, as Alfred Russel Wallace, who died 100 years ago today (Nov. 7), did in this journal entry made during the eminent, if overlooked, field biologist's journey across the Malay Archipelago between 1854 and 1862.
Wallace, long over-shadowed by Charles Darwin, crossed the island chain (which includes Singapore, Malaysia and Indonesia) collecting specimens, observing nature and exploring the most biodiverse chain of islands on Earth. Wallace's cause was that of a naturalist in pursuit of the question of how species come to be, essentially the question of evolution. His cause was anything but "inadequate," though, and today his formulation of the theory of evolution by natural selection is considered the most far-reaching theory in all of biology.
100 Years
During his lifetime Wallace founded the study of biogeography and made contributions to subjects as varied as anthropology, epidemiology and social reform issues. He sent back thousands of species new to science during his collecting days and published dozens of books, essays and articles. His book "The Malay Archipelago" has never been out of print and continues to be one of the most celebrated travel writings of its kind. [Gallery of Victorian Microscope Slides]
Wallace is best known for coming up with the theory of evolution by natural selection independently of Charles Darwin. In 1858 he sent an essay on the subject to Darwin from a remote island in Indonesia. When Darwin read the letter he was horrified, as he had been working on the same theory for more than a decade.
Darwin turned to influential friends Sir Charles Lyell (the foremost geologist of the time) and Joseph Hooker (an eminent botanist), who quickly made an arrangement only 14 days later for Darwin's unpublished writings and Wallace's letter to be presented together at the meeting of the Linnaean Society of London.
Wallace and Darwin's writings on the subject of evolution were later published by the society in 1858. Less than a year later Darwin's influential "On the Origin of Species" was published, a book often mistaken as the first place the theory of evolution was proposed. But today, while Darwin is a household name synonymous with the theory, Wallace struggles to gain anywhere near the recognition of his friend.
Emerging from Darwin's shadow
But awareness of Wallace is growing. Throughout the world, and especially in his native Britain, a plethora of events are taking place to commemorate and draw attention to the remarkable life and influence of this fascinating but little known hero of science.
Recently, an effort to collect and digitize Wallace's prolific letters and illustrations has been completed. Wallace Letters Online (WLO) gathers together more than 28,000 searchable documents and 22,000 images, including the first announcement of the theory of evolution delivered to the Linnaean Society 154 years ago. Transcribing and making this material freely available has been called a major advance in understanding Wallace's life's work, and helps build a fresh and more accurate picture of him outside of Darwin's shadow.
Worldwide events under the banner "Wallace100" are aimed at commemorating the life and work of Wallace. Centenary events and activities worldwide range from special presentations by scientists and natural history celebrities, such as Sir David Attenborough, to interactive discovery games for children. On Nov. 7, a series of exciting presentations, science-art exhibitions and even dance performances worldwide will be celebrating Wallace's remarkable life.
Follow us @livescience, Facebook & Google+. Original article on LiveScience.
Stay up to date on the latest science news by signing up for our Essentials newsletter.