Americans Deserve a Better Fracking Debate (Op-Ed)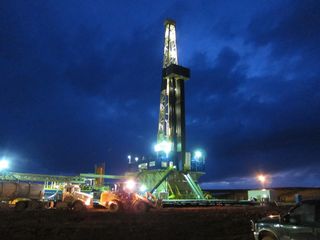 Gretchen Goldman is an analyst in the Center for Science and Democracy at the Union of Concerned Scientists (UCS). Goldman holds a PhD inenvironmental engineering and her current work looks at political and corporate interference in science policy. She contributed this article to LiveScience's Expert Voices: Op-Ed & Insights.
Last month, a Colorado man braved the floods to take pictures of swamped oil and gas drilling sites. Why did he put himself in danger? He didn't trust the companies that operate the sites — or the media — to document the damage at the state's oil and gas facilities.
His actions are symptomatic of a broader problem with the national debate over fracking. Citizens are hungry for reliable information about new unconventional oil and gas development, but they aren't receiving it. Interference in the science, weak or non-existent laws and misinformation from industry and activists have clouded the conversation.
We can do better.
According to a new analysis by UCS — based on extensive review of fracking debates around the country — companies and government agencies can do more to help communities make open, well-informed decisions on oil and gas development.
The stakes are high and continue to grow. Hydraulic fracturing and other technological advances, such as horizontal drilling, have resulted in the rapid expansion of "unconventional" oil and gas extraction from shale and other tight-rock formations. While the basic techniques have been used for several decades to extract oil from shale in Texas and elsewhere, this recent expansion uses new approaches to tap previously inaccessible natural gas and oil. These techniques are now being used in some 28 states, creating new risks in new places, from increased air pollution to contamination of drinking water.
For scientists, studying fracking is a game of catch-up. Policymakers and companies have rushed to tap into new oil and gas reserves, and the dizzying pace of development has left little time for scientists to comprehensively study fracking's impacts on the air, water, climate and public health. While many communities are understandably bullish on the benefits of fracking, including new jobs and economic growth, pro-fracking politicians and companies have also interfered with science to downplay risks.
Companies have also fended-off citizens with silence. They say little about the technological practices they use, including information about the chemicals they inject into the earth and the wastewater that comes back. In many cases, companies simply aren't required by law to disclose information about the chemicals they use. And they often defend their secrecy by claiming that revealing this information would put them at a competitive disadvantage.
To make matters worse, many investigations of water contamination are concealed from public view. When citizens sue companies that are suspected of polluting water supplies, companies often pressure plaintiffs to settle and accept non-disclosure agreements. Those settlements prevent researchers and communities from knowing whether or not any contamination was found.
This isn't what Americans need. Secrecy only engenders more distrust.
In many cases, the industry has failed to engage with the local communities where they are operating. Freeport-McMoRan, which operates oil wells in Culver City, Calif., won't tell local residents or city officials whether or not it plans to take on larger-scale hydraulic fracturing operations. When UCS recently hosted an event on fracking in California, the frustration we heard from Culver City representatives was palpable.
At the same time, many government agencies have been asleep at the switch. As hydraulic fracturing has expanded, state and federal law hasn't caught up, so hydraulic fracturing operations aren't comprehensively regulated. Where new laws have been passed, they are narrow and sometimes toothless. The federal government, for the most part, has left decisions up to the states and has invested little in monitoring potential risks from fracking or enforcing the laws that are already on the books.
In some cases, agencies may be ignoring their own science. A recent Los Angeles Times investigation revealed that the U.S. Environmental Protection Agency may have dismissed scientific evidence of groundwater contamination in Pennsylvania. People deserve more from federal agencies charged with protecting the public.
A constructive fracking debate would involve full public access to scientific information about exploration, drilling , production, transport and waste disposal. It would also respect the different choices communities and states make based on the evidence and local values. Some towns may welcome new development for the economic benefits. Others might not be willing to accept the risks to air and water quality that come with fracking. States like New York and Maryland have said "maybe" and are awaiting further study.
Regardless, people deserve the chance to learn about all the risks and benefits that unconventional oil and gas development might present, as well as who would stand to gain or lose the most, before such development begins. After all, it is public health and safety that is at risk from pollution, accidents and the other possible effects of this development.
Having a better fracking debate will require demanding it. Citizens will need to press their representatives and industry to provide the information they need. And they will need to hold companies and government accountable to the facts. That's why UCS has created a toolkit to help people figure out where to go for accurate information about fracking and how to find reliable sources for unanswered questions.
Some towns and states wish they'd done that. Many communities never adequately measured their air or water quality before they permitted fracking. Now it's hard for them to tell — or prove in court — whether or not fracking caused environmental damage.
Too many communities have already made decisions about fracking while largely in the dark about its potential risks or benefits. Science is like a trusty flashlight in these contentious debates. Let's let it illuminate our path, no matter which road we take.
The views expressed are those of the author and do not necessarily reflect the views of the publisher. This version of the article was originally published on LiveScience.
Stay up to date on the latest science news by signing up for our Essentials newsletter.