Satellites spot major oil spill in the Arctic Circle (photos)
Two European satellites have spotted a catastrophic oil spill in the Arctic Circle.

About 20,000 tons of diesel oil has leaked into a river in the Arctic Circle after a fuel tank at a power plant near the Siberian city of Norilsk collapsed last Friday (May 29). The Russian Investigative Committee has launched an investigation into the incident, as the plant reportedly waited for two days before informing Moscow authorities about the spill, according to the BBC.
As you can see in the animation above, the oil (depicted in red) traveled down the Ambarnaya River on May 31 and June 1. The river flows into Lake Pyasino, which feeds into the Pysaina River. Watching from space, the European Space Agency's Copernicus Sentinel-2 mission has observed the spill, for which Russia has declared a state of emergency.
Related: Oil spill hinders space shuttle fuel tank delivery
The spill has contaminated a swath of land that covers roughly 135 square miles (350 square kilometers), according to the BBC. It is believed that ground subsidence, or the sinking or settling of the ground, beneath storage tanks holding fuel at the plant is behind this spill. This incident comes during a time when unusually high temperatures are causing the Arctic permafrost to melt.
Copernicus Sentinel-2 is an ESA mission made up of two satellites circling Earth in a sun-synchronous orbit. The satellites monitor and take high-resolution images of Earth's surface. They contribute important data to the European Union's Copernicus program, which focuses on issues including climate change, land monitoring and emergency management.
Email Chelsea Gohd at cgohd@space.com or follow her on Twitter @chelsea_gohd. Follow us on Twitter @Spacedotcom and on Facebook.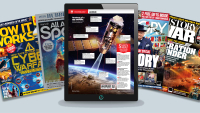 Stay up to date on the latest science news by signing up for our Essentials newsletter.
Chelsea Gohd joined Space.com as an intern in the summer of 2018 and returned as a Staff Writer in 2019. After receiving a B.S. in Public Health, she worked as a science communicator at the American Museum of Natural History. Chelsea has written for publications including Scientific American, Discover Magazine Blog, Astronomy Magazine, Live Science, All That is Interesting, AMNH Microbe Mondays blog, The Daily Targum and Roaring Earth. When not writing, reading or following the latest space and science discoveries, Chelsea is writing music, singing, playing guitar and performing with her band Foxanne (@foxannemusic). You can follow her on Twitter @chelsea_gohd.
And not only was it not reported in the news, the chances of actually cleaning it up effectively up in that extra-cold water are vanishingly slim. That is why people like myself were so extremely against any drilling up there, due to the inability to clean up their inevitable messes.

Then again, Exxon never has paid for its mess up there - remember the Valdez oil spill, anyone? I do! Big Oil doesn't care one bit about cleaning up their messes... they just want to shovel up as much profit as possible while they are still relevant.

Reply

This is a huge disaster, but I guess if not satellite we would find out about it when it's too late. Today satellites can be used even in medicine. For example, the UK aerospace company is developing a satellite for gathering data from Medtronic cardioverter defibrillators and sending the data to the doctor. So the patient can be cured remotely without the need to walk to the hospital https://www.skyrora.com/post/harnessing-satellite-technology-for-public-health.

Reply