A Summer's Worth of Rain Falls in One Week in Missouri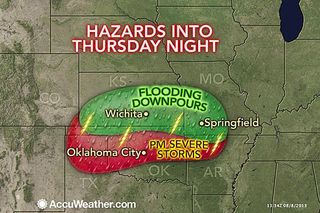 (Image credit: AccuWeather.com)
This article was provided by AccuWeather.com.
Rain keeps falling and devastating flooding continues in portions of Missouri, Kansas and neighboring parts of Oklahoma and Arkansas.
Multiple complexes of thunderstorms have rolled from west to east across the region this week, and additional storms will bring even more rainfall into the weekend across flood-weary areas.
Portions of central and southwestern Missouri have received more than a foot of rain so far during the first week of August, which is four times the normal for the entire month.
The rainfall has led to dramatic flash and urban flooding, as well as rises on some of the rivers in the Ozark Mountain region.
The Gasconde River at Jerome, Mo., set a record high level of 31.81 feet, breaking the old record of 31.34 feet set on Dec. 5, 1982. A near-record crest is forecast by National Weather Service hydrologists farther downstream on the river at Rich Fountain, Mo.
The Maries River in Missouri crested just below record levels. Moderate flooding occurred along the Neosho River in Kansas earlier this week.
The torrential rainfall has hit some communities so hard and so fast that some people were caught off guard.
RELATED: Severe Weather Watches and Warnings Flash Flooding Risk From Nashville to NYC, Boston Flash Flood Emergency in Missouri
During Thursday morning, many downtown streets were flooding in Wichita, Kan. Most streets in Fairland, Okla., were under water for a time as well.
A portion of I-44 near Waynesville, Mo., was closed at midweek due to inundation, but the road has reopened. Dozens of Missouri roads remained closed Thursday.
A 4-year-old boy died and his mother was missing after their vehicle was swept into deep water, according to Pulaski County Missouri Sheriff Ron Long. Two law enforcement officers were stranded near Highway 7 and the Gasconade River.
Communities and campgrounds along some of the streams and rivers in the region were evacuated Tuesday and Wednesday.
The Pulaski County Sheriff's Office is reporting that 50 homes have been destroyed and hundreds of others have been flooded.
The National Weather Service in Springfield, Mo., has described the flooding potential as "extreme," and Missouri Gov. Jay Nixon declared a state of emergency.
Additional water rescues and evacuations have taken place Thursday night in the town of Hollister, Mo.
The worst of the rain has fallen from eastern and central Kansas to central and southwestern Missouri, brushing northeastern Oklahoma and northern Arkansas. There has been and will continue to be a sharp cutoff to the rain to the north and south.
Ft. Leonard Wood, Mo., has received over 14 inches of rain in seven days, which is several inches greater than its entire average rainfall for the three summer months of June, July and August.
Popular tourist area, Branson, Mo., has received 8 inches of rain in 24 hours spanning Wednesday into Thursday.
Meanwhile, in St. Louis and Des Moines, Iowa, to the north and Tulsa, Okla., and Little Rock, Ark., to the south, less than one half inch of rain has fallen during August as of the morning hours of Aug. 8.
The location and terrain in the Ozarks region is prone to flash flooding.
In June of 2010, flash flooding claimed the lives of 20 people in the Arkansas Albert Pike Recreation Area.
Over the Ozarks, moisture from the Gulf of Mexico meets up with complexes of thunderstorms from the Plains. The rainfall is channeled rapidly through area streams and rivers along the hillsides.
© AccuWeather.com. All rights reserved. More from AccuWeather.com.
The only sure thing about weather forecasts is that they're wildly different all over the planet. Test your knowledge on the wild ranges in temperature, precipitation and more.
Extreme Weather Facts: Quiz Yourself
Stay up to date on the latest science news by signing up for our Essentials newsletter.