Exercise Science: 4 New Reasons to Get Off the Couch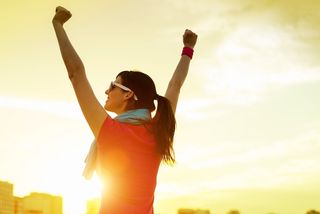 (Image credit: <a href='http://www.shutterstock.com/pic.mhtml?id=134044355&src=id'>Fitness photo</a> via Shutterstock)
I know a lot of people with commitment issues, and I'm not talking even talking about relationships. Many people have trouble committing to their own health.
Sure, they may keep up with annual physicals and mammograms, but they don't put in the work that's required on a daily basis. Does this sound like you? Well, you're in good company, but that doesn't mean you should stay there.
Let's take a look at our exercise habits. Have you noticed that when you're exercising regularly for a long period of time, it eventually gets easier to get up off the couch? It's almost as if you're building momentum. After some time, many people even look forward to exercising, as crazy as that may sound to you now.
The hardest part is to get over that initial hurdle. But what if someone told you that you have the power to alter the way your body stores fat? That sounds like a good reason enough reason to get going.
According to a study published in June in the journal PLOS Genetics, you may, in fact, have that power. Researchers studied 23 slightly overweight men over age 35, who took part in a spinning class twice a week for six months. They found that exercise seemed to change the way certain genes were expressed, thus changing the way these men stored fat.
Two gym classes a week isn't excessive. It's not a grueling regimen. But the key is commitment. Major transformations don't happen overnight – as much as we all wish they would. So, get started, and get that momentum going. [7 Cancers You Can Ward Off with Exercise ]
Here are three more of my best motivational tips to help get you off that couch:
Exercise can be a learning aid: People who exercise immediately after learning a new skill are more likely to retain that information than those who exercised before learning the skill, or not at all, according to a 2012 study published in the journal PLOS One.
It may help you live longer: Working out for just 15 minutes a day might add as much as three years to your life, according to findings published in 2011 in the journal Lancet.
You'll look and feel better: When you make a commitment to exercise, over time, your body will eventually start to shed fat and gain muscle. You'll probably start to like the way you look a little more than you did before. You may even start getting more compliments. Who doesn't like compliments?
Healthy Bites appears on LiveScience on Wednesdays. Deborah Herlax Enos is a certified nutritionist and a health coach and weight loss expert in the Seattle area with more than 20 years of experience. Read more tips on her blog, Health in a Hurry!
Stay up to date on the latest science news by signing up for our Essentials newsletter.
Deborah Enos, CN, also known as "The One-Minute Wellness Coach," is The Health Coach for busy, working people. She pares her good-health messages down to simple and fast bullet points that can impact lives in 60 seconds or less. Deborah serves as a board member of the American Heart Association. In addition to writing the Healthy Bites column for Live Science, Deborah is a regular on FOX Business News, NBC and ABC, and is a frequent contributor to The Costco Connection, Parade Magazine, Self Magazine, Good Housekeeping and USA Today. Deborah is also The One Minute Wellness Coach for The Doctors TV Show.