Korean Peninsula Flooded by a Month's Worth of Rain in One Week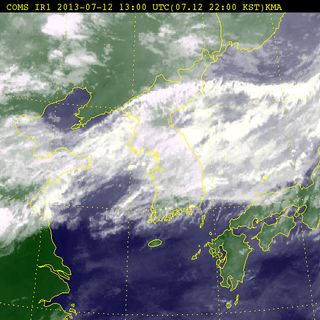 (Image credit: Korean Meteorological Administration)
This article was provided by AccuWeather.com.
The first half of the month had yielded periods of flooding rainfall to much of the Korean Peninsula, and more is on the way.
The combination of a slow-moving frontal boundary and tropical moisture has led to rainfall nearly every day of July across the region.
Seoul, the capital city of South Korea, has reported rainfall on all but three days of the month. Rainfall has totaled 18.04 inches so far this month, more than 200 percent of normal.
Around 20 inches of rain has been reported in Pyongyang, the North Korean capital, also more than double the monthly average.
This extended period of rain has led to flooding and mudslides that have claimed the lives of several people in South Korea.
RELATED: Disastrous Flooding Potential for New Mexico, Colorado Current National Watches and Warnings Recent Rain in East Increases Health Risks for Beach-Goers
The latest round of heavy rainfall claimed the lives of seven construction works due to the raging flood waters of the Han River.
Unfortunately, more heavy rains are expected as a slow moving frontal boundary continues to shift north to south across the peninsula into early next week.
The heaviest rain fell across North Korea earlier in the week before shifting into northern South Korea later Tuesday night into Wednesday.
A brief pause in the flooding rainfall is expected on Friday, before the front presses back into North Korean on Saturday. This front will stall near the border of North and South Korean leading to rounds of heavy rainfall from Sunday through Tuesday.
Also some tropical moisture from Cimaron could be pulled northward only further enhancing the threat for life-threatening flooding across the region.
AccuWeather.com. All rights reserved. More from AccuWeather.com.
The only sure thing about weather forecasts is that they're wildly different all over the planet. Test your knowledge on the wild ranges in temperature, precipitation and more.
Extreme Weather Facts: Quiz Yourself
Stay up to date on the latest science news by signing up for our Essentials newsletter.