Pets May Curb Heart Disease Risk, Doctors Say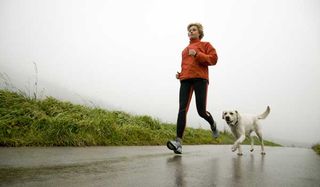 (Image credit: Pro777 | Dreamstime)
Owning a pet, especially a dog, probably lowers a person's risk of heart disease, a new statement from the American Heart Association says.
"There is a modest amount of data and reason to state that pet ownership may have some causal role in decreasing cardiovascular risk," said Dr. Glenn Levine, professor at Baylor College of Medicine in Houston, Texas, and chairman of the committee that wrote the statement.
Enough studies have looked at the question over the last decade that the time was right for a thorough scientific review of the data, Levine said.
The statement explains the evidence surrounding the question of whether pet ownership is linked with heart disease risk factors such as high blood pressure, obesity and physical activity levels.
Some studies that have looked for a link between pet ownership and blood pressure have found that people with pets tend to have lower blood pressure, and are less likely to have hypertension, than those who don't own a pet, the statement said. The only randomized controlled trial to look at the question included 30 participants, and found that when people adopted a dog, their blood pressure dropped.
Other evidence shows that people who own dogs are more likely than those who don't to reach recommended levels of physical activity, the statement said. It's likely that the benefit is seen because of the walking that some dog owners do. Owners who don't walk their dogs and owners of other pets were unlikely to see a benefit in physical activity levels in studies.
Walking a dog may also be linked with a lower risk of obesity, and may help with weight loss efforts in obese people, the statement said.
Among people without heart disease, owning a pet does not lengthen life, studies have shown, and among people with heart disease, findings are mixed.
Few studies have looked at whether owning a pet is linked with levels of triglycerides (fats) in the blood, but the evidence does show that pet owners have lower levels.
The statement doesn't mean people should buy or adopt pets in hopes of improving their heart health, Levine said. "The primary reason to adopt, rescue or purchase a pet should be to give that pet a loving home, and to enjoy the relationship one has with a pet," he said.
People should not get a pet without implementing standard changes to lower their risk of heart disease, he said.
The American Heart Association recommends avoiding heart disease by eating foods low in saturated fat, trans fat, cholesterol and sodium, being physically active, not smoking and watching your weight.
The statement is published online today (May 9) in the journal Circulation.
Pass it on: People with pets may have better heart health.
Follow Karen Rowan @karenjrowan. Follow MyHealthNewsDaily @MyHealth_MHND, Facebook & Google+. Originally published on MyHealthNewsDaily.
Stay up to date on the latest science news by signing up for our Essentials newsletter.

Karen came to LiveScience in 2010, after writing for Discover and Popular Mechanics magazines, and working as a correspondent for the Journal of the National Cancer Institute. She holds an M.S. degree in science and medical journalism from Boston University, as well as an M.S. in cellular biology from Northeastern Illinois University. Prior to becoming a journalist, Karen taught science at Adlai E. Stevenson High School, in Lincolnshire, Ill. for eight years.