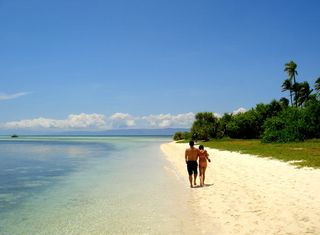 (Image credit: stock.xchng)
With its warm nights, the summer season often brings out the best and the most adventurous feelings of love and lust. Why confine sex to the bedroom, or even the house, when there are beaches and pools and hot tubs to host our most private moments?
A few reasons, as it turns out. As unsexy as it sounds, there are some health risks and practical concerns associated with summertime sex. While outright bans are not in order, some cautions to consider:
Condoms + water = tricky
Not to throw cold water on your fantasies, but you might consider some new drier ones.
While condoms are meant to be compatible with water-based lubricants, they should not be completely submerged in water. Condom companies don't test their products in such a condition, and therefore can't vouch for their effectiveness when used in pools, hot tubs or other wet and wild setups.
"Though the salt in seawater would not have adverse effects on condom materials, there is a strong possibility that the chemicals used in swimming pools (chlorine and ozone, for example) would," a Durex spokesperson told LiveScience.
Heat of any kind could break the condom down. Plus, it's just plain difficult to put on a condom in the water.
There are also the logistics of lubrication to deal with: Water washes it all away, including the natural lubrication a woman's body produces.
Sun, sand and … bacteria
Maybe you're in an STD-free, monogamous relationship and don't use condoms. You still might want to avoid water sex, as improperly maintained pools, hot tubs and Jacuzzis can be breeding grounds for bacteria. A study released last fall by Oregon State University found that summer is a bad time for bacterial infections in general, with serious infections caused by bacteria up as much as 17 percent with every 10-degree increase in seasonal air temperature.
Such bacteria, the researchers said, are a frequent cause of gastrointestinal and respiratory infections, as well as pneumonia and wound/blood infections. In addition, the bacteria can cause urinary tract infections, for which recent sexual intercourse is a known risk factor.
Confining your fling to the beach may not be healthy, either. A study published in the July 2007 issue of the journal Environmental Science & Technology found that the microbes that lead to beach closures and health advisories when detected at unsafe levels in the ocean also can be found in the sand.
According to the researchers, 91 percent of the beaches in the study had detectable levels of enterococci (bacteria that can cause urinary tract infections, endocarditis, diverticulitis and meningitis), and 62 percent of them had traces of E. coli. Those bacteria, when found at high levels in water, also can cause skin rashes or ear infections in swimmers.
'Swimmer' risk
And if all that weren't cause for pause, know this: Hot-tub use can cause fertility problems in men.
A 2007 study conducted by the University of California, San Francisco, found that total body exposure to wet heat can impair both sperm production and motility. The study's participants reported the use of a hot tub, heated Jacuzzi or bath at a temperature warmer than their body temperature for 30 minutes or more per week for at least three months prior to participation in the study.
Researchers asked the participants to stop all wet-heat immersion for three or more months, and 45 percent of those men reported a mean increase in total motile sperm counts of 491 percent after three to six months. In addition, the study pointed out that 85 percent to 90 percent of infertility cases can be effectively treated with drug therapy or surgical procedures.
Gallery: Sunrises and Sunsets
Sally Law has written about health and sexuality for the Cleveland Clinic, and has appeared regularly as a guest host on Sirius Radio. Her column, The Science of Sex, appears weekly on LiveScience.
Stay up to date on the latest science news by signing up for our Essentials newsletter.