'Poop Transplants' May Combat Bacterial Infections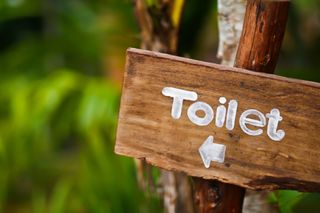 (Image credit: <a href='http://www.shutterstock.com/pic.mhtml?id=57657811'>Toilet sign photo</a> via Shutterstock)
"Poop transplants" are an effective way to treat people with one type of intestinal bacteria infection, a new study shows.
Researchers transplanted fecal matter from healthy people into the colons of people infected with the notoriously hard-to-treat Clostridium difficile bacteria, which causes severe, watery diarrhea. The researchers found that 46 out of 49 patients got better within a week of the treatment.
The transplant works because stool from healthy people, when mixed with warm water and delivered via a tube into patients' colons, helps re-establish the normal balance of bacteria in the intestine.
"C. diff is a serious infection — people die from this. With this treatment, the cure rate is close to 100 percent," said study researcher Dr. Mayur Ramesh, an infectious disease physician at Henry Ford Hospital in Detroit.
Among the 46 patients for whom the transplant was successful, four experienced a recurrence of their infection during the follow-up period. By contrast, studies have shown that infections recur in 25 to 30 percent of patients who receive the standard treatment for C. diff, which is a course of antibiotics, Ramesh said.
As of three months after the treatment, the patients had developed no complications or side effects as the result of their transplants, the researchers reported today at an infectious diseases research meeting in San Diego.
C. diff infections are linked to 14,000 deaths in the U.S. yearly, according to the Centers for Disease Control and Prevention. People at highest risk for the infection are older adults and those who take antibiotics. It's believed that antibiotics may disrupt the normal balance of bacteria species in the intestine, giving C. diff bacteria a chance to thrive.
Patients with C. diff infections are typically treated with the antibiotics metronidazole or vancomycin; however, these drugs don't work for everyone, the researchers said. In severe cases, patients may need surgery to remove the infected parts of their intestines.
In the study, researchers looked at patients whose average age was 65 and who were treated with fecal matter transplants over a two-year period at the study's hospital. In most cases, the donor was the spouse or child of a patient, but in some cases, siblings, parents, or unrelated people donated fecal matter.
The patients were not much bothered by the possible ick factor of the treatment, Ramesh told MyHealthNewsDaily. "These patients, they suffer so much from their symptoms," he said. "When I tell them about this treatment, they say, 'wow, that makes sense, go ahead and do it.'"
No patients declined the treatment, he said.
Other studies have found a similarly high percentage of C. diff patients can be treated successfully with fecal tranplants. However, the new research differed from previous studies because about a third of the patients had severe C. diff infections. "These are the patients who may die, or need to have a section of their colon removed," Ramesh said. Other studies have focused on patients with recurring, but not severe infections, he said.
Four patients in the study died, including three whose C. diff infection had been successfully treated with the transplant. The deaths were unrelated to C. diff, the researchers said; all had cancer before starting the treatment.
While this study and others suggest that fecal matter transplants are effective, randomized controlled trials are considered the "gold standard" of evidence in medicine.
One such trial was recently approved to begin in the U.S. In that study, patients will be randomized into two groups: in one, patients will receive fecal matter from healthy donors, while in the control group, patients' own fecal matter will be transplanted back into them, according to an article published in September in the journal Clinical Infectious Diseases.
Pass it on: Fecal matter transplants may be an effective way to treat C. diff infections.
FollowMyHealthNewsDaily on Twitter @MyHealth_MHND. We're also on Facebook & Google+.
Stay up to date on the latest science news by signing up for our Essentials newsletter.

Karen came to LiveScience in 2010, after writing for Discover and Popular Mechanics magazines, and working as a correspondent for the Journal of the National Cancer Institute. She holds an M.S. degree in science and medical journalism from Boston University, as well as an M.S. in cellular biology from Northeastern Illinois University. Prior to becoming a journalist, Karen taught science at Adlai E. Stevenson High School, in Lincolnshire, Ill. for eight years.