France Beats U.S. at Eating and Sleeping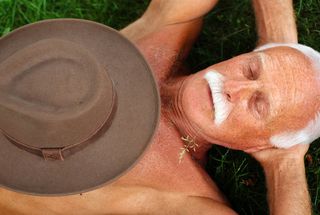 (Image credit: © Marcin Kempski |Dreamstime.com")
It's no secret that U.S. residents work hard, vacation infrequently, and struggle to get a good night's sleep (or so we're told by studies funded by the sleeping pill industry).
There are a host of reasons for our unrest, largely rooted in the cultural tendency toward work work work and the resulting stress over family and home tasks undone that all keeps us up at night. Some American parents struggle just to stuff the kids with Eggos, work all day, get the kids from day care or an after school program, shovel a fatty burger in them, yell about the homework, then crash.
Already known for their liberal vacation policies and their culinary indulgences, French residents were found in a new study to spend more time sleeping and eating than anyone else in wealthy nations.
2 hours a day?!
The French spend more than 2 hours a day eating, twice the rate in the United States, according to the Organization for Economic Cooperation and Development (OECD), which aims to promote democracy and a market economy among 30 nations. The OECD is located in France, so it's not clear how they found the time to do the study, but I digress. More results:
The French sleep about 9 hours a day, the report finds. U.S. residents weren't exactly asleep on the job in this category, coming 2nd place by sleeping a reported and quite surprising 8.7 hours a day, the OECD reports.
One has to wonder if this study is slightly out of whack, or if all this serious sleeping calls into question the many studies (again, many of them funded by the sleep industry) that say we Americans don't get enough. While 8.7 hours is a lot more than I ever get, it might at least be a good number to toss into an equation to generate some sort of admittedly inexpert average. Bear with me during a little math:
Last year, a study by the University of Maryland concluded that Americans get about 8 hours of sleep a night, possibly more in recent years. Our figures so far (8.7 and 8) contrast with the 7 or fewer hours (of substandard sleep, of course) often cited in studies funded by the National Sleep Foundation, which in turn is funded in part by drug companies that make sleep aids. (I can't think of why an organization promoting democracy and free markets — the OECD — would desire to skew sleep numbers one way or the other, so unless their goal was to make France and the U.S. both look lazy.)
Some let's do some serious rounding and call 8 hours our back-of-the-envelope-and-probably-not-too-far-off number. Good luck getting yours tonight.
Women work more
Nodding off? Okay, back to the OECD study: Announced this week, it is based on time-use surveys done in 2006 on nationally representative samples of thousands of people.
Among other findings:
In all the countries surveyed, men report more leisure time than women. This gender gap is largest in Italy, where men top women by 80 minutes per day. The gap is just under 40 minutes in the United States, and smallest (less than 5 minutes) in Norway.
Turkey is the most sociable nation surveyed, spending 35 percent of leisure time entertaining friends.
None of the countries is very physically active: Spain reports the highest proportion of leisure time spent doing regular physical activities, at 13 percent.
News about Sleeping (or lack of it)
Robert Roy Britt is the Editorial Director of Imaginova. In this column, The Water Cooler, he looks at what people are talking about in the world of science and beyond.
Stay up to date on the latest science news by signing up for our Essentials newsletter.
Robert is an independent health and science journalist and writer based in Phoenix, Arizona. He is a former editor-in-chief of Live Science with over 20 years of experience as a reporter and editor. He has worked on websites such as Space.com and Tom's Guide, and is a contributor on Medium, covering how we age and how to optimize the mind and body through time. He has a journalism degree from Humboldt State University in California.