Doctor Urges New Moms Toward Cow's Milk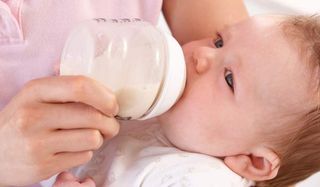 (Image credit: Monkey Business Images | Dreamstime)
Feeding cow's milk formula to a baby during the first 15 days of his or her life greatly decreases the chance that the baby will ever develop a dangerous milk allergy, an Israeli study suggests.
Dr. Yitzhak Katz, a professor at the Department of Pediatrics at Tel Aviv University, and his colleagues based their finding on the feeding histories of 13,019 infants born between June 2004 and June 2006. The incidence of developing the allergy was 19 times less common in infants who were fed the formula just after birth than those who were fed formula after their first 15 days, the researchers found.
"This effect is long-lasting," Katz said. "There is no reason to believe that in any later age, allergy to milk may appear."
An allergy to cow's milk develops in 2 percent to 3 percent of infants, but most of them outgrow it.
Katz said he and his team looked at infants at 3 months of age and then every two months after that until they began to consume cow's milk regularly. They are continuing to follow those infants who still have the allergy, he said.
Cow's milk allergies occur when the baby's immune system sees the milk protein as a foreign substance that must be fought off. It can cause upset stomach, vomiting, gagging, colic and skin rashes and, more rarely, anaphylaxis, according KidsHealth, a part of the Nemour Foundation's Center for Children's Health Media. However, most babies outgrow the allergy by the time they're 2 years old.
There is no proven reason why some humans, especially infants, develop allergies to cow's milk, said Dr. Rebecca G. Piltch, a fellow with the American Academy of Allergy Asthma and Immunology.
For mothers who breast-feed, Katz suggests one daily bottle feed of the formula with the cow's milk protein at night during the baby's first 15 days. By exposing the infant to the protein, it acts like a "vaccination" to the allergy, letting the immune system know the milk is a "friendly," he said.
If a mother hasn't fed the baby a formula with cow's milk protein during the first 15 days, Katz suggests waiting until the child is 1 year old or older.
"Our data indicate that to start giving cow's milk formula at the range of (about) 100 to 180 days poses the highest risk for developing cow's milk allergy," Katz said.
Some lactation experts still encourage strict breast-feeding for infants. Sandy Seddon-Rice of Fair Oaks, Calif., who has been a nurse for newborns for 30 years, said the benefits of strict breast-feeding may still outweigh the benefits of the formula.
"The immune properties for breast milk are specifically designed for that baby," Seddon-Rice said. "So if the baby is at 40 weeks, the milk is for the 40 weeks. If it's at 36 weeks, it [the milk] is for 36 weeks."
Stay up to date on the latest science news by signing up for our Essentials newsletter.
Amanda Chan was a staff writer for Live Science Health. She holds a bachelor's degree in journalism and mass communication from the Walter Cronkite School of Journalism and Mass Communication at Arizona State University, and a master's degree in journalism from Columbia University.