World Science Festival: Watch It Live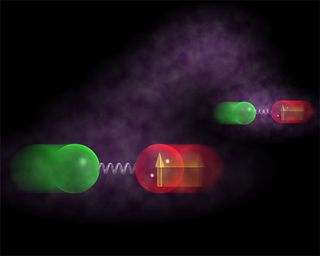 (Image credit: John Jost and Jason Amini)
An annual celebration and exploration of science, the World Science Festival takes place from May 29 to June 2 in New York City. The festival is produced by the nonprofit Science Festival Foundation, whose mission is "to cultivate a general public informed by science, inspired by its wonder, convinced of its value, and prepared to engage with its implications for the future."
Below is a schedule of events with live-stream video so you can watch the talks live.
From the World Science Festival:
Cellular Surgeons: The New Era of Nanomedicine
Moderated by Robert Krulwich Featuring: Omid Farokhzad, Peter Hoffmann, and Metin Sitti Time: Thursday, May 30, 2013 8:00 PM - 9:30 PM Venue: The Kaye Playhouse at Hunter College
Program Description: Pills the size of molecules to seek and destroy tumors. Miniscule robots performing surgery inside patients with a precision never before achieved. Nanobots, a billionth of a meter across, fixing mutations in DNA, or repairing neurons in your brain. Such are the possibilities as medicine enters the nano-era. Join leading researchers who are pushing these frontiers, to learn of new cures in the coming nano-revolution and possible risks of the molecular E.R.
The Whispering Mind: The Enduring Conundrum of Consciousness
Program Description: It's an old question: what is consciousness? Today, sophisticated brain imaging technologies, clinical studies, as well as the newfound ability to listen to the whisper of even an individual nerve cell, are bringing scientists closer than ever to the neurobiological basis of consciousness. Join some of the world's leading researchers who are primed to determine if Homo sapiens are the only conscious species, if consciousness lives only within our brain or also outside of it, and ultimately, the fundamental biochemical processes underlying the life of the mind.
Infinity
Moderated by Keith Devlin Featuring: Raphael Bousso, Philip Clayton, Steven Strogatz, and W. Hugh Woodin Time: Friday, May 31, 2013 8:00 PM - 9:30 PM< Venue: NYU Skirball Center for the Performing Arts
Program Description: "The infinite! No other question has ever moved so profoundly the spirit of man," said David Hilbert, one of the most influential mathematicians of the 19th century. A subject extensively studied by philosophers, mathematicians, and more recently, physicists and cosmologists, infinity still stands as an enigma of the intellectual world. Thinkers clash over questions such as: Does infinity exist? Can it be found in the physical world? What types of infinity are there? Through an interdisciplinary discussion with some of the world's leading thinkers, this program will delve into the many facets of infinity and address some of the deepest questions and controversies that mention of the infinite continues to inspire.
Architects of the Mind: A Blueprint for the Human Brain
Moderated by Bill Weir Featuring: R. Douglas Fields, Kristen Harris, Murray Shanahan, and Gregory Wheeler Time: Friday, May 31, 2013 8:00 PM - 9:30 PM Venue: The Kaye Playhouse at Hunter College
Program Description: Is the human brain an elaborate organic computer? Since the time of the earliest electronic computers, some have imagined that with sufficiently robust memory, processing speed, and programming, a functioning human brain can be replicated in silicon. Others disagree, arguing that central to the workings of the brain are inherently non-computational processes. Do we differ from complex computer algorithms? Are there essential features of the physical make-up and workings of a brain that will prevent us from creating a machine that thinks? And if we should succeed in constructing a computer that claims to be sentient, how would we know if it really is?
Brains on Trial: Neuroscience and Law
Moderated by Alan Alda Featuring: Nita A. Farahany, Jay N. Giedd, Kent Kiehl, Jed S. Rakoff, and Anthony D. Wagner Time: Saturday, June 1, 2013 2:00 PM - 3:30 PM Venue: The Kaye Playhouse at Hunter College
Program Description: What if we could peer into a brain and see guilt or innocence? Brain scanning technology is trying to break its way into the courtroom, but can we—and should we—determine criminal fate based on high-tech images of the brain? Join a distinguished group of neuroscientists and legal experts who will debate how and if neuroscience should inform our laws and how we treat criminals.
Destiny and DNA: Our Pliable Genome
Moderated by Bill Blakemore Featuring: Frances A. Champagne, Randy L. Jirtle, and Jean-Pierre Issa Time: Saturday, June 1, 2013 3:00 PM - 4:30 PM Venue: NYU Skirball Center for the Performing Arts
Program Description: When we're born, our genes click on and whir away to produce our personalities, diseases and physical appearances. Or do they? Research has now revealed that genes can turn on and off; they can be expressed for years and then silenced, or never even used. And what controls them? Scientists have recently discovered our epigenome, biological markers along our DNA that regulate gene expression in response to features like age or environment, and which can influence the traits we pass onto our children. Join a glimpse of the future with scientists at the forefront of the emerging field of epigenetics as they reveal the role our genetic markers play in steering our biological destiny.
Multiverse: One Universe or Many?
Moderated by John Hockenberry Featuring: Andreas Albrecht, Alan Guth, Andrei Linde, and Neil Turok Time: Saturday, June 1, 2013 8:00 PM - 9:30 PM Venue: NYU Skirball Center for the Performing Arts
Program Description: The inflationary theory of cosmology, an enduring theory about our universe and how it was formed, explains that just after the Big Bang, the universe went through a period of rapid expansion. This theory has been critical to understanding what's going on in the cosmos today. But now, this long-held notion—which seems to suggest as-yet-unproven and perhaps unprovable features such as the multiverse—is under increasing attack. Through informed debate among architects of the inflationary theory and its prime competitors, this program will explore our best attempts to understand where we came from.
A Matter of Time
Moderated by Ira Flatow Featuring: Paul Davies, Craig Callender, Tim Maudlin, and Max Tegmark Time: Saturday, June 1, 2013 8:00 PM - 9:30 PM Venue: The Kaye Playhouse at Hunter College
Program Description: The nature of time is an age-old conundrum for physicists, philosophers, biologists and theologians. The Newtonian picture of time—a kind of cosmic clock that ticks off time in a manner that applies identically to everyone and everything—tightly aligns with our experience. But with special and general relativity, Einstein showed the fallacy inherent in experience: the rate at which time elapses depends on circumstance and environment. These discoveries raise even more basic, long-standing puzzles: What is time? Is it a fundamental feature of reality or something we humans impose on experience? Does time come into existence with the universe or does it transcend it? Why does time exist at all?
Cool Jobs
Moderated by Baba Brinkman Featuring: Michelle Khine, Amanda Kinchla, Edwin Olson, Katherine Isbister, and Holly Robbins Time: Sunday, June 2, 2013 11:00 AM - 12:00 PM Venue: NYU Skirball Center for the Performing Arts
Program Description: The World Science Festival's highly celebrated program, Cool Jobs, is back with an astounding line-up of the coolest scientists around. Curious about developing a team of robots that can search and rescue while mapping their surroundings? Did you know it takes a scientist to make our grocery store foods delicious? Think it's possible to shrink a lab test so small that you can't see it? Or make interactive games that aren't in a computer? Look no further! The World Science Festival has assembled the coolest group of scientists with the coolest jobs who will answer these questions and much more. Start on your own quest to find your Cool Job—a science Job!
What is Time?
Moderated by Alan Alda Featuring: Alexandra Horowitz, Lawrence Rosenblum, and Max Tegmark Time: Sunday, June 2, 2013 3:00 PM - 4:00 PM Venue: NYU Skirball Center for the Performing Arts
Program Description: What Is Time? When you're having fun, time flies, but when you're bored, time moves like molasses. Do animals experience time like we do? How about time travel? Is it possible? What did Einstein figure out about time? Experts on physics, psychology and animal cognition take a crack at answering these complex questions with the help of actor and science lover Alan Alda and an audience full of curious kids like you.
Stay up to date on the latest science news by signing up for our Essentials newsletter.
For the science geek in everyone, Live Science offers a fascinating window into the natural and technological world, delivering comprehensive and compelling news and analysis on everything from dinosaur discoveries, archaeological finds and amazing animals to health, innovation and wearable technology. We aim to empower and inspire our readers with the tools needed to understand the world and appreciate its everyday awe.