Republican Congressmen Fight for Inefficient Light Bulbs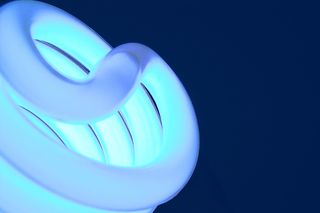 (Image credit: sxc.hu)
Republican Congressmen are fighting to regain the right to use old-fashioned, extremely inefficient light bulbs that burn out.
They want to overturn legislation signed into law by President Bush in 2007, which required all 100-watt incandescent light bulbs to become about 30 percent more energy efficient by 2012. The law prompted American manufacturers to phase out the old incandescent bulbs in favor of compact fluorescent light bulbs (CFL), which last eight to 15 times longer and use only 20 to 33 percent as much power. Few incandescent bulbs can be found in stores today.
Senator Rand Paul (R-KY) said it's "insulting" for the government to tell consumers what light bulbs they can and cannot buy. Rep. Joe Barton (R-TX) said, "To take out an entire class of light bulbs which have served this country very, very well and the consumers very, very well for over 100 years, it's not necessary and we don't think it makes any economic sense at all."
The newer bulbs cost $3.40, whereas the older ones cost $0.60. However, because the newer ones last far longer, they are ultimately less expensive. They are also far more environmentally friendly, because 90 percent of the energy used in incandescent bulbs is lost as heat. The electricity bill in a household fitted with CFLs is 12 percent lower than it would be if it used incandescent bulbs.
Since gaining the majority, Republicans have also reversed a series of in-house green initiatives undertaken by Democrats to reduce the carbon footprint of Congress. In the cafeterias, for example, polystyrene packaging had been replaced with trays and utensils made of biodegradable corn starch. Now, plastic is back.
Got a question? Send us an emailThis e-mail address is being protected from spambots. You need JavaScript enabled to view it This e-mail address is being protected from spambots. You need JavaScript enabled to view it This e-mail address is being protected from spambots. You need JavaScript enabled to view it This e-mail address is being protected from spambots. You need JavaScript enabled to view it This e-mail address is being protected from spambots. You need JavaScript enabled to view it This e-mail address is being protected from spambots. You need JavaScript enabled to view it This e-mail address is being protected from spambots. You need JavaScript enabled to view it This e-mail address is being protected from spambots. You need JavaScript enabled to view it This e-mail address is being protected from spambots. You need JavaScript enabled to view it This e-mail address is being protected from spambots. You need JavaScript enabled to view it This e-mail address is being protected from spambots. You need JavaScript enabled to view it This e-mail address is being protected from spambots. You need JavaScript enabled to view it This e-mail address is being protected from spambots. You need JavaScript enabled to view it This e-mail address is being protected from spambots. You need JavaScript enabled to view it This e-mail address is being protected from spambots. You need JavaScript enabled to view it This e-mail address is being protected from spambots. You need JavaScript enabled to view it This e-mail address is being protected from spambots. You need JavaScript enabled to view it This e-mail address is being protected from spambots. You need JavaScript enabled to view it This e-mail address is being protected from spambots. You need JavaScript enabled to view it This e-mail address is being protected from spambots. You need JavaScript enabled to view it This e-mail address is being protected from spambots. You need JavaScript enabled to view it This e-mail address is being protected from spambots. You need JavaScript enabled to view it This e-mail address is being protected from spambots. You need JavaScript enabled to view it This e-mail address is being protected from spambots. You need JavaScript enabled to view it This e-mail address is being protected from spambots. You need JavaScript enabled to view it This e-mail address is being protected from spambots. You need JavaScript enabled to view it This e-mail address is being protected from spambots. You need JavaScript enabled to view it and we'll crack itThis e-mail address is being protected from spambots. You need JavaScript enabled to view it . Follow Natalie Wolchover on Twitter @nattyover
Stay up to date on the latest science news by signing up for our Essentials newsletter.
Natalie Wolchover was a staff writer for Live Science from 2010 to 2012 and is currently a senior physics writer and editor for Quanta Magazine. She holds a bachelor's degree in physics from Tufts University and has studied physics at the University of California, Berkeley. Along with the staff of Quanta, Wolchover won the 2022 Pulitzer Prize for explanatory writing for her work on the building of the James Webb Space Telescope. Her work has also appeared in the The Best American Science and Nature Writing and The Best Writing on Mathematics, Nature, The New Yorker and Popular Science. She was the 2016 winner of the Evert Clark/Seth Payne Award, an annual prize for young science journalists, as well as the winner of the 2017 Science Communication Award for the American Institute of Physics.