The Strangest Valentine's Day Stories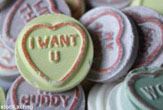 The approach of Valentine's Day generates more meaningless articles and borderline news than any other holiday. Not to mention some bizarre rituals and events (see Zoorotica, below).
Surveys about love are done, studies having anything to do with relationships or chocolate are held for release this week, and people start to see things (namely hearts) in strange places that they wouldn't have noticed during the other 51 weeks of the year.
So, on the premise there's a little science in these (be it sociology, geography, animal sex or whatever), and that they all are at least a little strange:
Get Naked: Do you know where Valentine's Day comes from? Think naked Romans, paganism and whips, writes John Roach over at National Geographic. "The lovers' holiday traces its roots to raucous annual Roman festivals where men stripped naked, grabbed goat- or dog-skin whips, and spanked young maidens in hopes of increasing their fertility." Okay then. And I'm stressing about roses vs. chocolates!
Get to Work!: A new Harris poll out this week finds 40 percent of U.S. workers have dated an office colleague, with 31 percent of them going on to marriage. That probably says more about the modern lack of time than anything. It also suggests that if the online dating service hasn't found your soul mate, you might just try and get a job. But don't let your spouse get one.
Zoorotica: The Binder Park Zoo in Battle Creek, Mich. on Feb. 14 will discuss animal reproduction and offer an intimate look at mating rituals. The sold-out show promises guests will go where none have gone before. We think we know what that means. From the zoo's web site: "Biting, clawing, scratching and mid-air acrobatics, animals have a way of reproducing that can be beautiful and brutal at the same time!" The three-hour, $50 tour includes hors d'oeuvres. And: "Each couple will receive a small gift to commemorate their experience!" On a local web site, comments about the event range from "This is just weird" to "Anyone who missed out on tickets to the Battle Creek show can go to Lansing and see Michigan's Governor do something similar to the taxpayers." Oh, one last thing from the zoo: "For those celebrating a special anniversary or special engagements or marriage proposals let the Zoo staff know in advance and they can help to incorporate your special celebrations."
Lover's Island: Spotted in Google Earth images, this tiny heart-shaped island is uninhabited — the perfect getaway if you can figure out how to get there. It's in the Adriatic Sea, off the coast of Croatia, between Zadar and the Island of Pasman.
This Day Sucks: At least in Australia, they're not afraid to admit it. Those who hate Valentine's Day see it as "a day of obligation rather than celebration, and one that puts pressure on fledgling relationships while making the pain of the lovelorn even more acute."
Virus Watch: The antivirus software maker BitDefender warns: Virus writers are notorious for launching attacks around major holidays like Christmas, New Year's and Valentine's Day. Last year, the Storm Worm struck millions of Internet users with the lure of receiving a Valentine's Day gift.
Love Is in Your Head: Sorry, you romantic devil, you! Love can be mostly understood through brain images, hormones and genetics. In fact, four tiny areas of the brain are said by some scientists to form a circuit of love. (Wouldn't you sometimes love to reprogram the circuit in your partner's brain?) Part of the evidence: In your mind, love lights up areas also linked to rewards. "Romantic love is an addiction; a wonderful addiction when it is going well, a horrible one when it is going poorly," points out researcher Helen Fisher of Rutgers University. "People kill for love. They die for love."
If I missed a good one (there will be plenty more before the week's out) email me the url and I'll add it.
Robert Roy Britt is the Editorial Director of Imaginova. In this column, The Water Cooler, he takes a daily look at what people are talking about in the world of science and beyond.
Stay up to date on the latest science news by signing up for our Essentials newsletter.
Robert is an independent health and science journalist and writer based in Phoenix, Arizona. He is a former editor-in-chief of Live Science with over 20 years of experience as a reporter and editor. He has worked on websites such as Space.com and Tom's Guide, and is a contributor on Medium, covering how we age and how to optimize the mind and body through time. He has a journalism degree from Humboldt State University in California.