Snow Impacting Iditarod Early On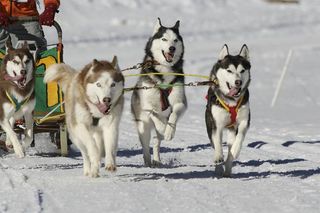 (Image credit: Dreamstime)
This article was provided by AccuWeather.com.
The weather is making its impact known on the 2012 Iditarod Race. Recent snowfall has led to a change on the leader board as Aily Zirkle pushed her team past the Rohn checkpoint Monday night amid a winter storm.
This recent winter storm has dropped 3-6 inches across the race route with several additional inches possible through Tuesday.
The snow will lighten up Tuesday night into Wednesday; however, snow will continue to fall on the racers. The recent storm arriving from the south and west has allowed milder air to spread into southwest Alaska; however, the bitter cold continues to hold on across the race route with temperatures 10-20 degrees below normal.
An area of high pressure building over the race route later this weekend and into next week will bring tranquil weather. This cold, dry air mass will reenforce the cold already in place keeping temperatures well below normal into next week.
The leaders are now over 200 miles into the race which totals 975 miles this year. The race started in Anchorage and will conclude when the racers reach Nome, on the western coast of Alaska.
© AccuWeather.com. All rights reserved. More from AccuWeather.com.
Stay up to date on the latest science news by signing up for our Essentials newsletter.