Rogue Storm Triggered Deadly Pakistan Floods, Study Finds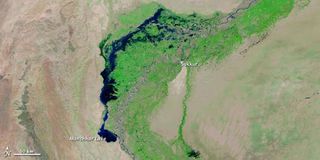 (Image credit: NASA Earth Observatory.)
A storm system went rogue last summer, triggering the deadly floods that killed more than 2,000 people in Pakistan, new research finds.
The storms clouds that hit Pakistan with heavy rains in July were seeded not by the nearby Arabian Sea, as might be expected, but by the Bay of Bengal, east of India. From there, extremely wet winds blew unusually far to the west, all the way to the Himalayan Mountains , allowing exceptionally wide and wet storm clouds to form over the barren mountain slopes, said Robert Houze, an atmospheric scientist at the University of Washington in Seattle.
"The wind pattern that got set up was bringing moisture into Pakistan in a way that is very unusual," Houze told OurAmazingPlanet. "The storms that formed over Pakistan were bigger and longer-lasting, more of a steady rain over a bigger area."
The dry slopes of the Himalayas funneled the rain into the Indus River, overwhelming it. When the river flooded, more than 20 million people were injured or left homeless. According to one estimate, more than 20 percent of Pakistan was underwater during the flooding. Some 10 million people were without unsafe drinking water, according to the World Health Organization.
To figure out how these exceptionally wide and wet storm clouds formed, Houze and colleagues looked at satellite images of the region dating back 10 years. Nothing they saw compared with the 2010 storm system.
The researchers spotted a unique storm signature. "A low pressure system that had formed in the Bay of Bengal and moved over to the Arabian Sea, which is completely abnormal," Houze said.
That rogue low pressure system conspired with other weather systems in the region to make a very wet and rainy situation over the dry slopes of the Himalayas, Houze said.
Teasing apart the storm system further could lead to better flood predictions . Another recent study suggests that, with today's knowledge, the potential for heavy rains in Pakistan could have been predicted six to eight days out.
Houze presented his work at the American Meteorological Society's annual meeting on Jan. 25 in Seattle. The study will be detailed in an upcoming edition of the journal Bulletin of the American Meteorological Society.
Reach OurAmazingPlanet staff writer Brett Israel at bisrael@techmedianetwork.com. Follow him on Twitter @btisrael.
Stay up to date on the latest science news by signing up for our Essentials newsletter.
Brett Israel was a staff writer for Live Science with a focus on environmental issues. He holds a bachelor's degree in biochemistry and molecular biology from The University of Georgia, a master's degree in journalism from New York University, and has studied doctorate-level biochemistry at Emory University.