What Halloween is Really About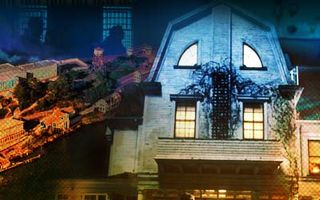 All those Halloween ghosts and goblins apparently are scaring away the kids but not the consumers.
Fewer children are expected to go trick-or-treating this year, according to the U.S. Census Bureau, but the average person plans to spend more on the holiday than they did last year, according to a recent retail survey.
And the customs surrounding the ghoulish day are not just for little ones anymore. Halloween is most popular among young adults, ages 18 to 24, who plan to spend more on the holiday than any other age group, according to the National Retail Federation, dressing up as their favorite characters and partying into the wee hours.
In an ironic twist, however, while adults love to get into the act, some U.S. schools have put the kibosh on Halloween celebrations altogether in recent years for the sake of political correctness.
A little something for everyone
Some 36 million children, ages 5 to 13, are expected to go door-to-door in costumes this year, down from 38 million last year and 40 million in 2000, according to the Census Bureau.
Meanwhile, American adults (18 and older) will spend $5.8 billion on Halloween this year, up from just under $5 billion two years ago, according to the NRF.
More grown-ups will be attending spooky festivities in search of relief from the nation's economic woes, one marketing specialist says.
"After months of bleak economic news, consumers are looking for a reason to let loose," said Phil Rist, vice president of strategy for BIGresearch. "And with Halloween falling on a Friday this year, consumers may plan to celebrate all weekend long."
People will celebrate Halloween in a variety of ways, a BIGresearch survey shows, with the most popular activities including handing out candy (73.7 percent), carving a pumpkin (44.6 percent) and decorating (50.3 percent). Many consumers will also dress in costume (35.3 percent), throw or attend a party (31.1 percent), and take children trick-or-treating (33.6 percent).
Offending witches
Many U.S. schoolchildren, however, are being told to leave their pirate patches and witch hats at home.
The city of Belleville, Ill., has limited trick-or-treating to kids in eighth grade or below, according to the Associated Press. Mayor Mark W. Eckert signed an ordinance on Oct. 21 that bans the tradition for older teens, saying homeowners complained about late-night door knocks on Halloween. He says the city's government also believes Halloween is for small children. Exceptions will be made for special-needs kids and teens accompanying younger siblings. Belleville Police Chief William Clay says he expects parents to enforce the new rules. He says officers will stop older trick-or-treaters and make them go home. If they don't, their parents can be fined $25.
Real or fake weapons, masks and gory or revealing costumes are banned this year at Laurel Wood Elementary School, Principal Marsha Nichols told the Salinas Californian newspaper, adding that part of the point was to avoid scaring kindergartners. The pupils will get to hold an afternoon Halloween parade to show off their costumes.
Other school districts across the country have also put a squeeze on the holiday, reasoning that not all students — especially in schools with a diverse religious make-up — celebrate the holiday. Several schools in Illinois' Indian Prairie School District banned costumes a couple years ago, because some students were uncomfortable and were staying home on Halloween, a representative told The Chicago Sun-Times.
Offending Christians
A few schools, including one in Colorado and one in Massachussetts, have bowed in recent years to pressure from parents who say the holiday, with its pagan roots and ancient customs, goes against Christian teachings. That's a tough argument to make, said Danny L. Jorgensen, professor of religious studies at the University of South Florida.
"Halloween probably is a leftover from the pre-Christian past," Jorgensen told LiveScience, "however, it is not the same as the original pagan holiday — whatever that may have been."
Any associations the holiday may have had with real witchcraft were long gone by the time the holiday came to America in the 1840s with Irish immigrants, who were mostly Catholic. Their annual custom of getting dressed up in ghoulish costumes came from the Celts, who believed long-dead spirits returned to Earth on Oct. 31, their New Year's Eve. Morphed by a ninth-century pope, All-Hallows' Eve became a day for the Christian world to honor saints and martyrs.
That makes today's version of Halloween, if it can be considered a religious holiday at all, as much Christian as it is pagan, Jorgensen said. "Halloween, almost by definition, was appropriated by Christian cultures — void of its sacred significance — as some sort of special event, if not a religious one."
Top 5 Haunted Places in America
Stay up to date on the latest science news by signing up for our Essentials newsletter.
Robin Lloyd was a senior editor at Space.com and Live Science from 2007 to 2009. She holds a B.A. degree in sociology from Smith College and a Ph.D. and M.A. degree in sociology from the University of California at Santa Barbara. She is currently a freelance science writer based in New York City and a contributing editor at Scientific American, as well as an adjunct professor at New York University's Science, Health and Environmental Reporting Program.