Standing On the Chukchi Sea Ice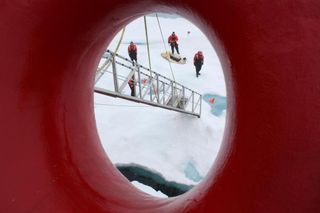 (Image credit: NASA/Kathryn Hansen.)
Looking down from the U.S. Coast Guard icebreaker Healy, scientists stand on the sea ice in the Chukchi Sea off the north coast of Alaska on July 4, 2010.
These scientists are part of NASA's ICESCAPE mission officially known as Impacts of Climate change on the Eco-Systems and Chemistry of the Arctic Pacific Environment which is a multi-year NASA shipborne project aimed at studying the effects of climate change around the Earth's northernmost reaches.
During this grueling mission, scientists are seeking clues about the changing Arctic climate and the shifting ice conditions that affect ocean ecosystems. The instruments being hauled onto the ice in the NASA image will measure the physical, chemical and biological characteristics of the Chukchi Sea, which lies between Alaska and Russa, and its ice.
The five-week voyage departed on June 15 from Dutch Harbor, Alaska and continues through the summer. The bulk of the research is taking place in the Beaufort and Chukchi Seas areas that are experiencing dramatic losses in sea ice. (The Beaufort Sea lies to the north of Alaska.)
Researchers will compare observations from the field to NASA's satellite views of the Arctic Ocean to paint a more complete picture of the Arctic climate change, said Paula Bontempi, ocean biology and biogeochemistry program manager at NASA.
Arctic sea ice is shrinking as the world warms (Antarctic sea ice, paradoxically, is actually growing ). In the Arctic, the buildup of greenhouse gases in Earth's atmosphere caused sea ice to melt to its lowest recorded area in 2007 and second lowest in 2008. In a vicious cycle, the melting sea ice which reflects the sun's rays is likely further ramping up Arctic temperatures, which have warmed almost twice as much as the global average, an April 29 study in the journal Nature suggests.
Stay up to date on the latest science news by signing up for our Essentials newsletter.
Brett Israel was a staff writer for Live Science with a focus on environmental issues. He holds a bachelor's degree in biochemistry and molecular biology from The University of Georgia, a master's degree in journalism from New York University, and has studied doctorate-level biochemistry at Emory University.