Amazing Power of Music Revealed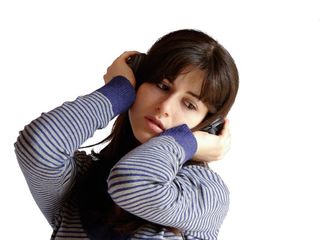 (Image credit: stock.xchng)
More than 7,000 runners who raced earlier this month in a half-marathon in London were under the influence of a scientifically derived and powerful performance-enhancing stimulant — pop music.
The dance-able, upbeat music at London's "Run to the Beat" race was selected on the basis of the research and consultation of sport psychologist Costas Karageorghis of Brunel University in England. He has learned how to devise soundtracks that are just as powerful, if not more so, as some of the not-so-legal substances that athletes commonly take to excel.
"Music is a great way to regulate mood both before and during physical activity. A lot of athletes use music as if it's a legal drug," Karageorghis told LiveScience. "They can use it as a stimulant or as a sedative. Generally speaking, loud upbeat music has a stimulating effect and slow music reduces arousal."
The link between music and athletic performance is just one example of the inroads scientists and doctors are making into understanding the amazing power that music has over our minds and bodies. Science is backing up our intuition and experience, showing that music really does kill pain, reduce stress, better our brains and basically change how we experience life.
Music reduces stress
For example, more and more health professionals, including pediatrician Linda Fisher at Loyola University Hospital in Illinois, are playing therapeutic music for patients in hospitals, hospices and other clinical settings to improve their healing.
"The music I play is not necessarily familiar," said Fisher, who is finishing up coursework toward certification as a music-for-healing practitioner. "It's healing music that puts the patient in a special place of peace as far as the music's rhythm, melodies and tonal qualities."
Studies done in the early 1990s at Bryan Memorial Hospital in Lincoln, Neb., and St. Mary's Hospital in Mequon, Wis., concluded music "significantly" lowered the heart rates and calmed and regulated the blood pressures and respiration rates of patients who had undergone surgery.
In 2007, a study in Germany found that music therapy helped improve motor skills in patients recovering from strokes, Fisher said. Other studies have found that music therapy can boost the immune system, improve mental focus, help control pain, create a feeling of well-being and greatly reduce anxiety of patients awaiting surgery.
Along those lines, music therapy was recently found to reduce psychological stress in a study of 236 pregnant women, according to researchers from the College of Nursing at Kaohsiung Medical University in Taiwan.
Women in the study who listened to pre-recorded CDs of soothing music for 30 minutes daily showed significant reductions in stress, anxiety and depression, said researcher Chung-Hey Chen, who is now based at the National Cheng Kung University.
One of the CDs featured songs such as Brahms' "Lullaby" and "Twinkle, Twinkle, Little Star." Nature sounds, children's rhymes and songs and music by composers such as Beethoven and Debussy were featured on the other CDs. The results are detailed in a special issue The Journal of Clinical Nursing.
Music makes life better overall
Scientists also have confirmed that music definitely provokes memories, as we all have experienced, to the point where we don't even have to hear a song. We just think of it and the memories flood in.
Music has also been found to ease labor pain, reduce the need for sedation during surgery, make you smarter, and diminish depression.
The right temporal lobe could be a key brain site for processing music, as one study found that subjects experience increased activity there when focusing on musical harmony. Other studies have also shown that the temporal lobe, in concert with the frontal lobe, is a key region for understanding certain musical features.
And while humans like to run to a beat, fish apparently also have their own version of this. In fact, the ability to keep track of time is fundamental to the behavior and cognitive processing of all living organisms, Mu-ming Poo of the University of California, Berkeley, wrote in the Oct. 16 issue of the journal Nature.
Among zebrafish, a neural "metronome" or biological clock may help them to remember rhythm over relatively long time periods, Poo and his colleagues found. When the beat stops, the fish apparently "remember" the beat's rhythm and timing and often continue to wag their tails in time to it. This finding and other research suggests that our ability and tendency to keep time with music is something we inherited from our earliest evolutionary ancestors.
More about music and workouts
For all you gym rats, here is exactly what listening to music does for your workout, Karageorghis said. First, it reduces your perception of how hard you are working by about 10 percent during low-to-moderate intensity activity. (During high intensity activity, music doesn't work as well because your brain starts screaming at you to pay attention to physiological stress signals).
Secondly, music can have a profound influence on mood, potentially elevating the positive aspects of mood, such as vigor, excitement and happiness, and reducing depression, tension, fatigue, anger and confusion.
Thirdly, music can be used to set your pace — Ethiopian runner Haile Gebrselassie reportedly has asked for the techno song "Scatman" to be played when he competes (he won the gold medal in the 10,000 meters at the Sydney Olympic Games in 2000; "Scatman" presumably went unplayed during the race).
Finally, music can be used to overcome fatigue and control one's emotions around competition. The hurdler Edwin Moses, who competed for the United States in the 70s and 80s and had a 122-race winning streak between 1987 and 1997, used laid-back soul tunes as part of his pre-race routine, Karageorghis said.
The "Run to the Beat" music was played as runners at the Oct. 5 half-marathon event passed by 17 stations, not throughout the 13.1-mile course, because Karageorghis' research shows that music is most effective when we are losing steam, not as a constant stimulus. For the rest of us at the gym or on our a.m. jogs, he recommends two workouts with music to every one without, so the effect is not dulled.
Sports-music fusion festivals
Karageorghis and his post-doctoral researcher collected data during the "Run to the Beat" half-marathon, allowing them to test theories on thousands of live runners outside the lab.
Despite driving winds and heavy rain during the event, post-race interviews suggested that the runners found the music inspiring and fun.
In the future, Karageorghis envisions cultural festivals that involve a fusion of sports and music, where the crowd and the athletes are motivated by music playing at stations along a competitive route, while motivating one another.
"It is beyond the music," he said. "The music creates an esprit de corps, a cohesion you don't normally have in a mass participation event. One of the key causes of motivation is this notion of satisfaction of a psychological need for relatedness. Having music creates a common bond, a social gel, that allows you to almost satisfy this need automatically."
Video: Laptop Orchestra – The Next Step in Computer Music
Why Do We Love Music?
Stay up to date on the latest science news by signing up for our Essentials newsletter.
Robin Lloyd was a senior editor at Space.com and Live Science from 2007 to 2009. She holds a B.A. degree in sociology from Smith College and a Ph.D. and M.A. degree in sociology from the University of California at Santa Barbara. She is currently a freelance science writer based in New York City and a contributing editor at Scientific American, as well as an adjunct professor at New York University's Science, Health and Environmental Reporting Program.