Massive Molecular Cloud | Space Wallpaper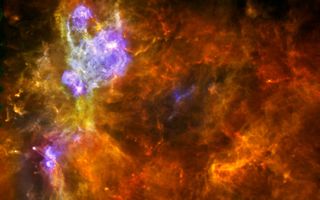 (Image credit: ESA/PACS & SPIRE consortia, A. Rivera-Ingraham & P.G. Martin, Univ. Toronto, HOBYS Key Programme (F. Motte))
This stunning space wallpaper reveals W3, which is an enormous stellar nursery about 6200 light-years away in the Perseus Arm, one of the Milky Way galaxy's main spiral arms, that hosts both low- and high-mass star formation. In this image, the low-mass protostars are seen as tiny yellow dots embedded in cool red filaments, while the highest-mass stars – with greater than eight times the mass of our Sun – emit intense radiation, heating up the gas and dust around them and appearing here in blue. The wallpaper shows a three-color image of the W3 giant molecular cloud combines Herschel bands at 70 μm (blue), 160 μm (green) and 250 μm (red). The image spans about 2 x 2 degrees. North is up and east is to the left. This image was released Sept. 17, 2012.
Stay up to date on the latest science news by signing up for our Essentials newsletter.
Space.com is the premier source of space exploration, innovation and astronomy news, chronicling (and celebrating) humanity's ongoing expansion across the final frontier. We transport our visitors across the solar system and beyond through accessible, comprehensive coverage of the latest news and discoveries. For us, exploring space is as much about the journey as it is the destination.