Bird-Flu Update: Possible Cases of Human-to-Human Transmission Investigated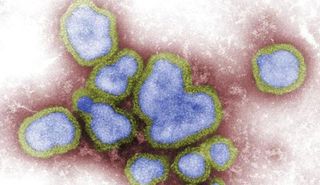 (Image credit: CDC/ F.A. Murphy)
Authorities in China say that members of a family infected with the H7N9 flu virus may have contracted the virus via human-to-human transmission, according to the website of the English language Chinese newspaper China Daily.
The family's 87-year-old father was the first person in China to die of H7N9, according to the paper.
The man's elder son was also infected, and his younger son may have been. Authorities are looking into how the sons may have caught the virus.
The New York Times reported this morning that a total of four possible cases of human-to-human transmission are being investigated.
"Even if two family members are positive, it is not necessarily the case they got it from each other. They may have gotten it from the same bird," Gregory Hartl, the spokesman for the World Health Organization in Geneva, told the Times.
Investigators are still looking for the source of the virus — the animal species that may be transmitting the virus to people. It seems possible that the source is an animal other than a bird, Hartl said.
But it is not time to panic. Health authorities have said that there is no evidence that human-to-human transmission might be "sustained" or "ongoing." In other words, only those in very close contact with sick people, for extended periods of time, might be at risk for this type of transmission.
Stay up to date on the latest science news by signing up for our Essentials newsletter.

Karen came to LiveScience in 2010, after writing for Discover and Popular Mechanics magazines, and working as a correspondent for the Journal of the National Cancer Institute. She holds an M.S. degree in science and medical journalism from Boston University, as well as an M.S. in cellular biology from Northeastern Illinois University. Prior to becoming a journalist, Karen taught science at Adlai E. Stevenson High School, in Lincolnshire, Ill. for eight years.