Lyme Disease Rates Rise in Northern US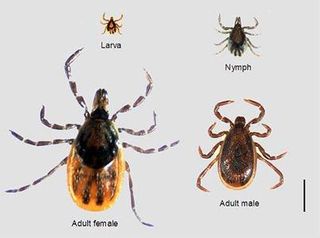 (Image credit: CDC, courtesy of Dr. Marc Dolan.)
Lyme disease is shifting northward within the U.S., with cases in northern states on the rise while cases in southern states decline, a new study says.
Between 1992 and 2007, there were significant increases in Lyme disease rates in 21 states, while 14 states showed a significant decrease, and 15 states showed no significant change, according to the study.
Most of the states that showed increases in the tick-borne disease were northern states, including most states in New England, along with Virginia, Ohio, and Pennsylvania, and states across the northern Midwest, including Michigan, Illinois, Wisconsin, Minnesota and North Dakota.
States that showed decreases in Lyme disease rates over the study period were mainly in the Southeast, such as Georgia, Louisiana, Mississippi, Tennessee and Kentucky, but drops were also seen in California, Oregon and Wyoming.
"Our findings are consistent with the hypothesis that increases in Lyme disease incidence in recent decades are attributable at least in part to the effects of climate change," the researchers wrote.
Studies have suggested that warming temperatures at northerly latitudes allow the Ixodes ticks, which carry the bacteria that cause Lyme disease, to migrate northward. Meanwhile, rates of the disease may be decreasing in southern states as warmer temperatures there allow an expansion of lizard populations from farther south. Lizards are "dead-end hosts" of the Lyme disease bacteria, meaning they do not transmit the disease to humans.
Lyme disease is also being reported in parts of Canada previously thought to be too cold for the ticks, the study said.
The researchers at the University of Toronto used data on Lyme disease rates from the Centers for Disease Control and Prevention (CDC). They took into account factors beyond latitude that can affect a state's rate of Lyme disease, such as how much of its population lives in rural areas and the growth of its suburbs.
To prevent tick bites, the CDC recommends using repellents that contain 20 percent or more DEET, avoiding areas that are wooded or have high grass, and showering soon after returning from the outdoors.
The new study was published Tuesday (April 16) in the journal CMAJ Open.
Pass it on: Tick-borne lyme disease is increasing spreading into northern states as climate changes.
Follow Karen Rowan @karenjrowan. Follow MyHealthNewsDaily @MyHealth_MHND, Facebook & Google+.
Stay up to date on the latest science news by signing up for our Essentials newsletter.

Karen came to LiveScience in 2010, after writing for Discover and Popular Mechanics magazines, and working as a correspondent for the Journal of the National Cancer Institute. She holds an M.S. degree in science and medical journalism from Boston University, as well as an M.S. in cellular biology from Northeastern Illinois University. Prior to becoming a journalist, Karen taught science at Adlai E. Stevenson High School, in Lincolnshire, Ill. for eight years.