Ticks Spreading New Disease-Causing Bacteria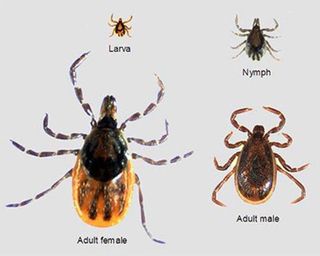 (Image credit: CDC | courtesy of Dr. Marc Dolan)
U.S. researchers have found that ticks in two states are spreading a newly discovered strain of bacteria that causes a feverish illness. The yet-unnamed bacteria belong to a group called Ehrlichia that is spread by deer ticks, also known as black-legged ticks. Using culture and genetic analyses, researchers have identified the bacteria in the bloodstream of more than 25 people in Minnesota and Wisconsin. However, many more people may be infected, Mayo Clinic microbiologist Bobbi Pritt warned. Ehrlichiosis, the disease caused by the bacteria, infects and kills white blood cells and may cause fever, body aches, headache and fatigue, according to the Mayo Clinic. In the most severe cases, it can affect multiple organs, such as the lungs, kidneys and brain. However, infections can be treated with the antibiotic doxycycline and are rarely fatal. Researchers became aware of the new bacterium in 2009, after Carol Werner, then a technologist at the Mayo Clinic Health System Eau Claire Hospital in Wisconsin, noticed an abnormal test result. A team of officials from the Mayo Clinic, the Centers for Disease Control and Prevention and several public health departments began investigating the new strain. Screening thousands of human blood samples and analyzing thousands of ticks from across the country, the researchers found the new bacterium only in Minnesota and Wisconsin. The Minnesota Department of Health issued a health advisory last year alerting the public to increasing reports of ehrlichiosis. "As the deer tick population continues to spread and increase across Wisconsin, we are likely to see increasing incidence of this new infection, just as we have seen with Lyme disease and anaplasmosis, which are transmitted by the same tick species,'' said study researcher Susan Paskewitz, an entomologist at the University of Wisconsin-Madison. The researchers suggest that Minnesotans and Wisconsinites take the same precautions that they would against Lyme disease, including applying insect repellent before going into wooded areas, and tucking pants into socks and wearing long-sleeved shirts when active outdoors. The findings appear in the Aug. 4 edition of the New England Journal of Medicine.
Follow Remy Melina on Twitter @remymelina, and follow MyHealthNewsDaily @MyHealth_MHND. Like us on Facebook.
Stay up to date on the latest science news by signing up for our Essentials newsletter.
Remy Melina was a staff writer for Live Science from 2010 to 2012. She holds a bachelor's degree in Communication from Hofstra University where she graduated with honors.