Shocking Stats From the Wild April Storm in the Plains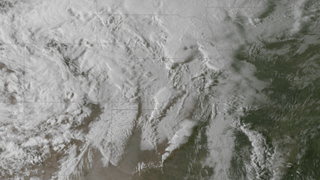 (Image credit: NOAA.)
This article was provided by AccuWeather.com.
An April blizzard, severe storms and wild temperature swings were all caused by a dynamic storm in the Plains.
While dynamic storms are typical in the spring as warmth returns across the South and cold air lingers across the north, this storm was quite unusual.
Blizzard conditions evolved on Tuesday from Colorado and Wyoming to Nebraska and South Dakota.
RELATED: Live: Snow, Ice Slowing Travel in Plains Map: Current Weather Warnings in the U.S. AccuWeather Winter Weather Center
Winds over 50 mph created snow drifts as high as 9 feet, while portions of I-25 and I-80 were shut down.
Rapid City Airport, S.D., recorded its snowiest single day of all time on Tuesday with a total of 20.0 inches.
Snowfall Totals as of 8:30 a.m. EDT Wednesday
* denotes a record daily snowfall was set on Tuesday
There was a total of 44 record daily snowfall amounts set in the U.S. on Tuesday, according to the National Climatic Data Center (NCDC).
On Tuesday, temperature differences across the Plains were more than 90 degrees. Highs ranged from 12 degrees in Cheyenne, Wyo., to 108 degrees in Laredo, Texas.
The violent clash of air masses helped to set up the battlegrounds for severe storms from Texas to Iowa. The strongest storms produced hail up to 2.00 inches in diameter and wind gusts higher than 65 mph.
Farther south, temperatures soared then crashed across portions of Oklahoma and Texas. The colder air arrived as winds switched out of the north.
"It's really unusual to have this magnitude of arctic air drive this far south in the Plains this time of year. It's a sign of how amplified the weather pattern is in the U.S.," AccuWeather Expert Senior Meteorologist Alex Sosnowski said.
Stat Highlight: Abilene, Texas, climbed as high as 93 degrees on Tuesday evening. Temperatures dropped drastically into the night, reaching the 30s after midnight as snow arrived. Snow and freezing rain fell throughout the night.
While the high reached 79 degrees in Oklahoma City, temperatures dropped into the lower 30s overnight. Heavy thunderstorms this morning changed over to freezing rain with thunder.
"There may be a similar storm next week, but without the same magnitude of arctic air," Sosnowski said.
© AccuWeather.com. All rights reserved. More from AccuWeather.com.
With much of the country experiencing an unseasonably warm winter, fears of climate change come to mind. See how well you understand recent weather, climate and the difference between them.
Weather vs. Climate Change: Test Yourself
Stay up to date on the latest science news by signing up for our Essentials newsletter.