Mississippi River Continues to Near Historic Low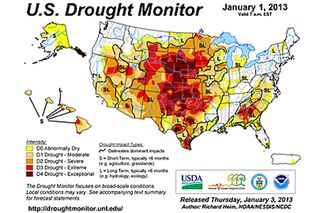 This article was provided by AccuWeather.com.
The Mississippi remains in peril as drought conditions persist across much of the United States. The river, a major route for shipping, continues to face historic and record breaking lows.
"The main storm track thus far this winter and this past fall has been from the Gulf of Mexico up into the Ohio River basin. We've seen very few storms tracking out of the Rockies and on to the northern Plains," AccuWeather.com Expert Senior Meteorologist Alex Sosnowski said.
As of January 1, 2013, much of the northern plains continued to face severe to exceptional drought conditions, according to the U.S. Drought Monitor, not leaving much to feed the Mississippi.
"The lowest levels that we're seeing now are in the upper portion of the Mississippi River and also the Missouri River. Areas farther south, basically from the Ohio basin down to the lower Mississippi, are in much better shape," Sosnowski said.
The Mississippi River at St. Louis is forecast to fall from about -4.0 feet, its level as of Jan. 8, to a stage of less than -5.5 feet by Feb. 6.
This level would place as the fourth lowest level on record, and measures less than a foot above the lowest stage on record of -6.2 feet, set in January of 1940.
Five Lowest Mississippi River Levels on Record
"The forecast does not show any major rainfall to stop the steady, slow fall in water level," AccuWeather.com Expert Senior Meteorologist Jim Andrews said.
"Moreover, the coming cold wave will ice over most of the system up stream. Widespread thick ice would tie up water, removing it from the rivers' flow," Andrews said.
For months, the Army Corps of engineers has been dredging sections of the river to deepen the shipping channel and prevent the river from becoming too shallow for vessels to pass.
According to Reuters, the low water levels have already disrupted the flow of billions of dollars' worth of grain, coal, fertilizer and other commodities between the central U.S. and shipping terminals at the Gulf of Mexico.
AccuWeather.com. All rights reserved. More from AccuWeather.com.
The weather is getting stranger, right? Well, for the most part no, scientists say, but humans often think so when a strange event does occur. So here's your chance to prove how much you known about weather oddities.
Weird Weather: One Strange Quiz
Stay up to date on the latest science news by signing up for our Essentials newsletter.