To Catch a Panda: Science in the Wild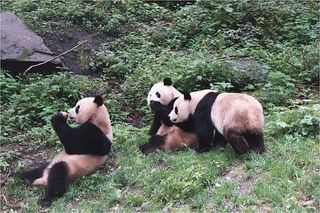 (Image credit: Sue Nichols, Michigan State University)
Vanessa Hull is living atop a mountain in China in a quest to catch a panda.
The Michigan State University graduate student started living in the Wuyipeng research station in the remote mountains of Sichuan, China, last month, and aims to capture, collar and track up to four wild giant pandas using advanced global positioning systems.
The goal is to understand more about the endangered bears, so they can be saved. Estimates of panda numbers in the wild range from 1,600 to 3,000.
Hull is among the first to obtain permits to trap the pandas (in cages) and fit them with safe GPS collars. She and the team will map where these elusive creatures go, effectively letting the pandas tell the researchers the habitat they like best.
Scientists can mesh what the pandas tell them with that mountain of data. It can help them identify the most hospitable panda neighborhoods, learn how to preserve those and create more.
But first, Vanessa must catch a panda. Here's how the search is going, in her words:
Dec. 8
This really was my first day going "out in the field" so to speak … so I was pretty excited. It was nice to be hiking up through the woods again with my notebook and pen in hand, ready for a good day's work. My field assistants and I took the GPS collars to different locations in the habitat and tested to see if they could pick up satellite signals and correctly record locations.
Dec. 11
We ate and then got ourselves ready to go out in the field to set our first trap. Lao Yang and Lao Fan [my two assistants] showed me the goat that they had slaughtered for the bait in the traps while I was in Chengdu buying my computer. They decided that the first cage would contain the goat's head.
After a 20-minute hike, we arrived at our first trap. It was a wooden one (we have seven altogether — four metal and three wooden). I had not seen this one yet, as it was constructed back in September when I was at school. I was really impressed; it was pure genius on the part of Lao Wang [the station caretaker], Lao Fan and Lao Yang. They proudly gave me a few demonstrations and then baited the cage with the goat head. We decided, given that it was late in the day, to just do this one test trap for today and see how it goes. I think we are ready to bait all of them tomorrow.
Dec. 19
Today was my turn to go checking traps with Lao Fan. We made record time - left at 8:35 a.m. and got back at 2:00 p.m! It was beautiful weather. It was so sunny and I noticed much less snow than when I went out with Lao Yang earlier in the week. Since it was a clear day, we could see the Four Sister's mountain from Jianpengzi. It was so breathtaking and was one of those "pinch me I must be dreaming of this" moments.
… We were surprised to find that the trap in Zhuangjinggou was closed when we got there (meaning … an animal was captured!). I held my breath as I looked inside. It must have been a funny sight to see Lao Fan and I standing next to each other peering intently into the cage and thinking "where is the animal?" Apparently, a squirrel had set off the trap, but it was small enough to escape out of the holes in the trap door, so it successfully ran away. However, it left behind incriminating footprints. In fact, we found that another squirrel (or group of squirrels) had eaten nearly all of the meat at the Erdaoping. I joked with Lao Fan that the squirrel must live up in the tree right next to the trap and just come down multiple times a day to snack. What can you do?
Dec. 31
Today I hiked with Lao Fan to check all of the traps. … It started out like a pretty normal hike. … By the time we got up close to the first cage at Jianpengzi, I had gone into my usual daydreaming mode. Suddenly, Lao Fan, who was in front of me, turned and said matter-of-factly, "The panda has come." He pointed to the ground where there was fresh giant panda feces right on the trail, not but 70 meters [76 yards] from the cage. We both looked at each other with wide eyes, as if to say, "We aren't alone up here." Lao Fan told me that he guessed that the panda had been there last night.
This is the one panda that my field team had found signs of in Hero Valley last week. It had come to Jianpengzi in large part due to the snowfall that made the habitat in the neighboring Hero Valley less appealing. Lao Fan was initially perplexed about why the panda had not smelled the meat and gone into the cage right away. All our cages were empty. But he said he was optimistic that the panda would take a break after its traveling last night and then be lured by the meat. We will see what happens tomorrow.
Jan. 5
Today was a continuation of the "Vanessa-Lao Fan Wuyipeng panda feces tour." This time we hiked to areas called Jinguashugou (Golden Melon Tree Valley) and Wanghouai (Overlooking Monkey Cliff). We found another old trap from the 1980s panda trapping expedition. It was in a flat area right near a large river and seemed like a potential "panda grand central station" kind of location.
It's a good spot for us to put another trap, but again we looked far and wide around in that area for panda feces for hours and found nothing except panda feces from last summer and last winter at this time. The pandas had not come down there yet. They were supposed to be making their way over from the neighboring Hero Valley but are likely behind schedule due to the warm weather.
… We eventually accepted the fact that we were not going to find any fresh panda feces, despite finding lots of signs of red pandas, takin, Sambar, and tufted deer. We made our way back to the field station. Lao Wang and Lao Yang, who had been checking the traps today, had not returned yet. However, they showed up about five minutes after us with the news of fresh panda feces about 40 meters from the trap at Baiyan (white cliff). Lao Fan and I were dumbfounded. We had been hiking all over the place for two days trying to locate fresh panda feces and found nothing, while the two of them were just walking the every-day trap loop and stumbled upon it when they were not even looking for it. I love it when God has a sense of humor.
It turns out that this panda's droppings were slightly larger than what we found near another trap at Jianpengzi last week. We aren't sure, but it's possible that this is a second panda that has wandered into our trapping area.
To be continued …
Video: Catch a Panda
Gallery: World's Biggest Beasts
Animal Sex: No Stinking Rules
Stay up to date on the latest science news by signing up for our Essentials newsletter.
For the science geek in everyone, Live Science offers a fascinating window into the natural and technological world, delivering comprehensive and compelling news and analysis on everything from dinosaur discoveries, archaeological finds and amazing animals to health, innovation and wearable technology. We aim to empower and inspire our readers with the tools needed to understand the world and appreciate its everyday awe.