Historic Globe-Circling Flight Underway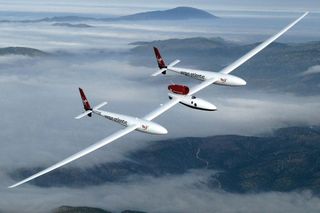 (Image credit: Virgin Atlantic)
A solo attempt to fly non-stop around the globe is underway.
Billionaire adventurer Steve Fossett is at the controls of the Virgin Atlantic GlobalFlyer, climbing into the skies after departure from the Salina Municipal Airport in Salina, Kansas.
The one-of-a-kind experimental plane is a single-engine turbofan aircraft designed expressly for nonstop global circumnavigation. Nobody has ever made the trip alone without refueling.
With the Sun set, the plane rolled down the runway, lifting off at roughly 7:47 p.m. ET (6:47 Central) from the Salina airfield. The craft is to follow the jet stream winds across the Atlantic to the United Kingdom. From there, Fossett will head Southeast across the Mediterranean and the Gulf region before turning east towards Pakistan, India, China and Japan.
The final leg of the journey will take the plane out over the Pacific towards Hawaii before crossing the West Coast of the United States and returning to the Kansas launch site. GlobalFlyer is expected to make its landing early Thursday, local time.
The aircraft will fly at up to 52,000 feet and travel approximately 23,000 miles at speeds in excess of 285 mph. To accomplish the feat, the flight should take inside 80 hours. Winds will be a determining factor.
Fossett is no stranger to setting aerial records. In 2002, he was the first to fly a hot air balloon solo around the globe.
The Virgin Atlantic GlobalFlyer is sponsored by Sir Richard Branson's Virgin Atlantic Airways and has been built by aerospace designer Burt Rutan, chief of Scaled Composites in Mojave, California. Rutan is the mastermind behind the SpaceShipOne rocket plane that won the $10 million Ansari X Prize last year.
Thirteen fuel tanks are onboard GlobalFlyer, enabling the plane to attempt the three-day flight. Mission control for the GlobalFlyer attempt will be based at a Kansas State University facility at the Salina Municipal Airport in Kansas. Fossett has said the location was chosen because he wants to be over the United States at the beginning and end of the flight, as opposed to flying over ocean.
A dedicated Web site - www.virginatlanticglobalflyer.com - will provide details and updates on the Virgin Atlantic GlobalFlyer's progress and live coverage of the record-setting attempt.
Stay up to date on the latest science news by signing up for our Essentials newsletter.