Art Collector Indulges His Morbid Curiosity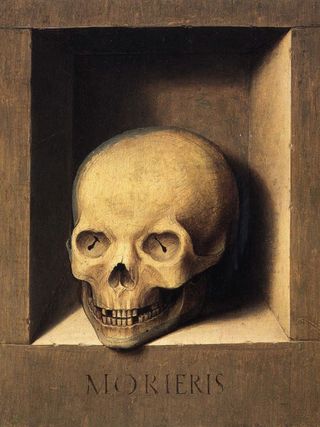 (Image credit: Barthel Bruyn, the Elder)
Richard Harris has collected more than 1,500 pieces of art and artifacts exploring death. One of them, a snapshot, best explains why.
It shows a woman, Phebe Clijde, standing in the backyard of her suburban San Diego home with four friends in 1927. She is holding a skull in her hands.
"She is looking at this skull and wondering about it and where it is from and whose skull it is and that is a way to represent my questions and my searches about death and how it manifests itself in the world of objects and art," Harris told LiveScience.
He doesn't know the story behind the snapshot, which cost him $5.
Harris' interest in depictions of death was piqued in 2001, at an art fair in the Netherlands, where he encountered a booth showing memento mori — works that speak to the inevitability of death. It occurred to him that death would be a promising theme for a collection. [Photos of Harris' Morbid Collection]
The collection he has since amassed is nothing if not diverse. It contains pieces from famous artists like Rembrandt and Albrecht Dürer, as well as a 10-foot-tall cloth installation commemorating the Holocaust, photographs from Mexican Day of the Dead celebration, a sparkling skull, a chandelier made from plaster bones, ethnographic art and artifacts from cultures around the world, and series of prints interpreting war.
Most of the works contain skulls or skeletons — the universal symbol of death.
"It seems as if most artists at some time in their career use those images in their work," Harris said. "It's part of the vocabulary of artists, in many ways, in many times and throughout history."
This theme has a personal dimension for Harris, who at age 74 is closer to the end of life than its beginning, he said. His age makes him more conscious of death, and it also provides a source of inspiration that "before I do die, before death does come to me, that I should put together something of an overall view of death from my perspective," he said.
The Chicago Cultural Center is scheduled to begin displaying Morbid Curiosity: The Richard Harris Collection, Saturday, Jan. 28. It will run through Sunday, July 8, 2012.
You can follow LiveScience senior writer Wynne Parry on Twitter @Wynne_Parry. Follow LiveScience for the latest in science news and discoveries on Twitter @livescience and on Facebook.
Stay up to date on the latest science news by signing up for our Essentials newsletter.
Wynne was a reporter at The Stamford Advocate. She has interned at Discover magazine and has freelanced for The New York Times and Scientific American's web site. She has a masters in journalism from Columbia University and a bachelor's degree in biology from the University of Utah.