Chip Implants Proposed To Halt Blackmarket Cadaver Trade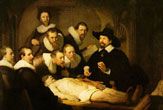 An investigation into illegal sale and distribution of cadavers and body parts at the University of California, Los Angeles, has lead to recommendations that include implanting cadavers and individual body parts with RFID tags.
Last year, UCLA suspended its willed-body program. The program director was arrested after an investigation of apparently stolen body parts revealed serious problems with security in the program. A body-parts dealer who is not affiliated with the University of California system was also arrested.
Former California Gov. George Deukmejian, who led an investigative task force, told University of California regents Wednesday that the probe revealed a "clear lack of standards" in accounting for specimens, keeping records and oversight.
Among the recommendations, which included better security cameras and improved record-keeping, was the idea that cadavers and even individual body parts should be identified with bar codes or with implanted radio-frequency identification (RFID) tags.
Coming soon to a cadaver near you?
The law of supply and demand has induced some people involved in legitimate medical research on bodies willed to science to seek illegitimate profit. A 1999 scandal at UC Irvine began when an audit showed that the director of its willed-body program had sold spines to a Phoenix hospital for $5,000 each. He was fired but never prosecuted. UC Irvine is now the only school with cameras in its laboratory and the only one to conduct unannounced inventories of its cadavers and body parts.
The demand for body parts for use by biomedical firms, pharmaceutical companies, surgeons training in new techniques and educational institutions without their own programs -- has risen sharply in the past few years. The sale of human body parts is illegal, but the law allows suppliers to charge "reasonable" fees to recover costs.
According to a price list included in the UC report, one supplier, the International Institute for the Advancement of Medicine, in Jessup, Pa., charges $2,100 for a torso with head and $887 for a whole arm with shoulder.
Larry Niven coined the term organlegging to describe practice of trafficking in human organs in his 1967 novel The Jigsaw Man. Read more about implanting live people with RFID tags for bill payment; also the FDA has approved the VeriChip tag for use in hospital patients. See UCLA weighs cadaver safeguards and Report finds lax oversite in UC cadaver program for more on this story.
(This Science Fiction in the News story used with permission from Technovelgy.com - where science meets fiction.)
Stay up to date on the latest science news by signing up for our Essentials newsletter.
Bill Christensen catalogues the inventions, technology and ideas of science fiction writers at his website, Technovelgy. He is a contributor to Live Science.